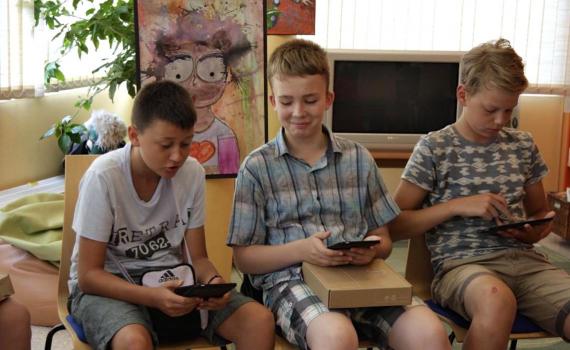 Valmiera Public Library in Latvia has shared results of its 'Read and Get Followers' pilot project, which was implemented with support from the EIFL Public Library Innovation Programme (EIFL-PLIP). The pilot project uses digital technology to motivate teenagers to read.
The idea for the project grew out of research by librarians into reading habits of 260 young people, which found that 21% of boys and 5% of girls did not read at all. The main reasons given for not reading were lack of interest, and a preference for activities like meeting friends and communicating on social media.
The library partnered with the software development company, Fastr Books, to create a 'social reading' application (app) for tablet computers and smart phones that enables young readers to create their own e-book libraries, to build networks of followers, to chat with their friends and to share opinions about books online.
Librarians work with teenagers to create service
For the first time, the library involved teenagers in co-creating a library service. They selected a 15 teenagers from local schools to act as 'reading ambassadors' to promote 'social reading' among their peers. The reading ambassadors worked with the library and Fastr Books to make the app more user friendly for teenagers.
The library offered a series of workshops, titled 'A Library in Your Pocket', teaching over 450 young people to use the app to create libraries, read e-books and communicate.
For over half of the teenagers reached by the project, this was their first experience of reading e-books.
"Now, since I can read on my smart phone, I do it more often. When I have a free minute, for example, during breaks in the school programme, I can access my bookshelf and read" Gustav Māziņš, a project participant told librarians.
Librarians also worked with the 'reading ambassadors' and teachers and students of Vidzeme University of Applied Sciences to design a new reading space for youth - the 'Future Reading Room'. The room is designed to emphasise the links between literacy and technology, and to encourage teenagers to use technology to read.
The library's future plans include continuing with the 'A Library in Your Pocket' training, and buying more tablet computers for the 'Future Reading Room'. The reading ambassadors have begun setting up a new group of young volunteers to consult with the library about future youth services, and librarians are committed to continue consulting with teenagers in future.
Read more
Read a two-page case study about the impact of the project in the community and on the library.
Read more about Valmiera Public Library's 'Read and Get Followers' pilot project.
Background
Valmiera Public Library's 'Read and Get Followers' pilot project is one of 10 public library projects for children and youth funded by EIFL-PLIP in 2014. Over the next few months, we will be publishing further case studies about the impact of these projects.
Since 2010, EIFL-PLIP grants have initiated and supported library services and projects that are reaching communities through over 300 public and community libraries in 27 countries in Africa, Asia, Europe and Latin America.
EIFL-PLIP works across six crucial community development issues: agriculture; digital inclusion; education; employment; health, and supporting the needs of women and girls.
Read more about EIFL-PLIP grantees and their innovative services.