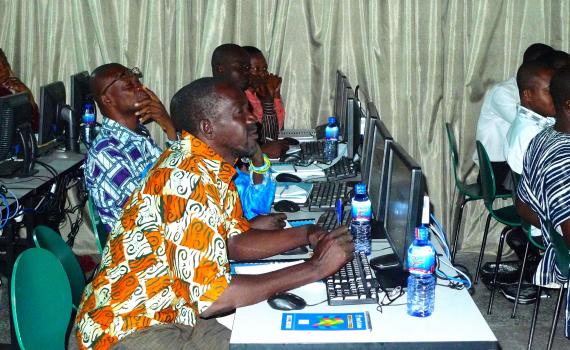 EIFL (Electronic Information for Libraries) is delighted to announce a new partnership with the Goethe-Institut in sub-Saharan Africa to support capacity building for public libraries in Africa.
The new partnership will expand the scope of a nation-wide capacity building initiative which EIFL is piloting in Ghana, together with Ghana-based partners. The initiative involves 27 public libraries – almost half the total number in Ghana – and aims to enable public librarians to introduce new services that contribute to community development in crucial areas such as agriculture, employment, health and education.
The initiative targets libraries that have computers and internet connections, and can thus offer public access to this technology. Public access to the internet through libraries is vital in developing countries like Ghana, where poor infrastructure, unreliable electricity supply and high cost of internet access mean that most communities do not have access to information and communication technology (ICT).  When integrated into public library services focused on community needs, for example, improving access to health information and services, connecting farmers to agricultural support agencies and helping young people find jobs, the internet becomes a powerful development tool.
Public library leadership to join training
The collaboration with the Goethe-Institut enables public library directors from all regional public libraries and leading representatives of the Ghana Library Authority - a total of 12 people - to join 30 librarians currently involved in the training initiative.
"We are delighted to partner with the Goethe-Institut," said Ms Ramune Petuchovaite, EIFL Public Library Innovation Programme (EIFL-PLIP) manager.
"The extension of the training to include regional directors will make a major difference to the outcomes, in terms of strengthening the libraries' technical capacity and enabling them to move forward with creative new services using digital information technology.
"We hope this will be the beginning of a long and productive partnership with the Goethe- Institut," added Ms Petuchovaite.
"Working together with EIFL helps us to extend our outreach to the library community in sub-Saharan Africa", said Ms Brigitte Doellgast, the Goethe-Institut's regional head of Library and Information Services in Johannesburg. "The focus of EIFL on ICT training for librarians, coincides perfectly with the strategic goals of the Goethe-Institut to further the training for librarians and to enable a broader public the access to information via the internet."
Libraries to build new service action plans
The library leaders will join the fourth module of the training, which takes place in November. Module 4 includes a focus on development of new services that use ICT, and advocacy and communication skills so that libraries can advocate for resources to introduce and sustain new services. Each of the 27 libraries represented at the training will develop a new service action plan, including an advocacy strategy.
The first three modules of the training, conducted by specialist trainers from EIFL and the Ghana-based Public Libraries Initiative for Development (PLIFOD) have been completed.
Modules One and Two (June 2014) built public librarians' ICT competencies and skills, and their training skills to enable them to extend technology training to community members. Module Three (August 2014) included in-depth training on introducing and managing innovative services, community needs and impact assessment, as well as online research skills.
The 30 librarians are drawn from libraries that have internet access and computer laboratories set up by the Ghana Investment Fund for Electronic Communication (GIFEC), a parastatal organization created to facilitate the provision of ICT and internet connectivity in underserved areas of Ghana. The GIFEC library connectivity project aims to equip and connect all 63 regional and district public libraries in Ghana. The EIFL training will ensure that the libraries are able to use this technology to full capacity, and to offer innovative services that improve lives in their communities.
Background
EIFL-PLIP advances community development by enabling public libraries to implement innovative ideas that use technology to improve people's lives and livelihoods. Since 2010, EIFL-PLIP support has sparked the creation of 49 new and innovative public library projects and services implemented by over 300 public and community libraries. 
The Goethe-Institut is Germany's cultural institute. It promotes knowledge of the German language abroad, fosters international cultural cooperation and conveys a comprehensive picture of Germany.
PLIFOD is a joint initiative of the Ghana-based technology training and development agency, TechAide, and the (ghla.org.gh) Ghana Library Authority (GhLA).