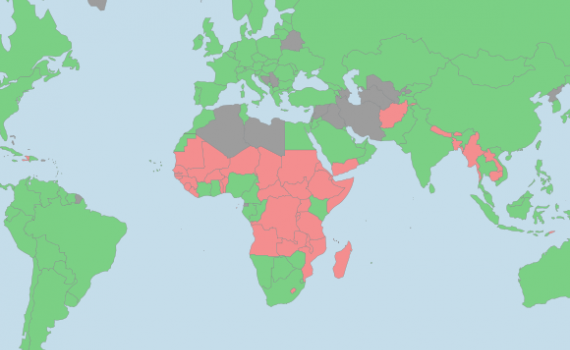 Posted: February 16, 2021
EIFL has called on the World Trade Organization (WTO) to grant a request by Least Developed Countries (LDCs) to extend the LDC TRIPS exemption for as long as a country remains an LDC.
Article 66.1 of the Agreement on Trade-Related Aspects of Intellectual Property Rights (TRIPS) grants Least Developed Countries (LDCs) an exemption from implementing the substantive obligations for protection and enforcement of IP rights, including copyright. 
The exemption is in recognition of the fact that LDCs represent the poorest and weakest segment of the international community, characterized by constraints such as low per capita income, a low industrial and technological base, and weak education systems. It shields LDCs from having to adopt higher standards of copyright protection, provides policy space to craft copyright exceptions, such as for libraries and education, to support national priorities on education, literacy, research and innovation, and it avoids costly obligations with regard to the establishment of new criminal procedures, border controls, and other enforcement measures.
The exemption period, extended on two previous occasions, is currently set to expire on 1 July 2021.
On 4 February 2021, EIFL joined over 110 civil society organizations from 40 countries in calling on WTO members to extend the LDC transition period, for as long as a country remains an LDC. It also asks for an additional period of 12 years after a country graduates from LDC status because challenges don't disappear overnight - it takes time to develop sustainable research capabilities and a viable technological base to compete in global markets.
Challenges exacerbated by the COVID pandemic
The request by Chad, on behalf of the LDC Group at the WTO, highlights the high degree of vulnerability by LDCs to economic and climate shocks that have already caused significant setbacks in progress towards sustainable development and the achievement of the Sustainable Development Goals. These challenges are further exacerbated by the COVID-19 pandemic that, according to the United Nations Department of Economic and Social Affairs, threatens to have devastating consequences in LDCs with health systems unable to cope with the long-term effects of the virus, a decline in exports caused by the international economic downturn, and a global tourism industry that is at a virtual standstill.
Overcoming these challenges requires a long-term strategy for which LDCs need a long-term continuation of the exemption period. Short extensions, that require LDCs to make repeated requests every few years, are impractical and do not take into account the huge strides that must be made to build sufficient capacity in science, technology and innovation. And when a country does reach the threshold for graduating from LDC status, the 12 year buffer will provide welcome continuity, helping to ensure a smooth and sustainable transition for the benefit of all.