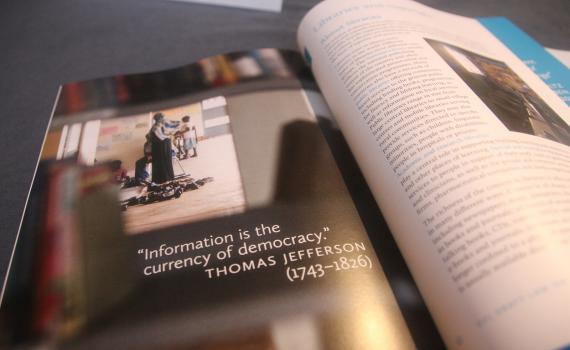 Posted: December 10, 2014
After five years, it was time to update the 2009 EIFL Draft Law on Copyright in the light of legislative developments, current thinking on copyright policy, and library services enabled by new technologies.
As a result, we have amended some of the exceptions and limitations, while introducing new provisions. We have also refreshed the layout and design of the document.
The EIFL Draft Law on Copyright including Model Exceptions and Limitations for Libraries and their Users (2014) is a practical guide to assist librarians, as well as their legal advisors and policy-makers, when national laws are being updated. It is designed to support access to knowledge and the public interest mission of libraries.
The provisions apply fully to the digital environment, and contain important measures needed for preservation, inter-library document supply, orphan works, translations, and text and data mining, among other activities. It also includes a flexible exception to 'future proof' the law for technological advances. Each exception and limitation is accompanied by a short explanatory note that describes the policy goal of the provision and examples of its effect.
We welcome comments and feedback. We hope it will continue to be a useful resource for librarians and policy-makers alike.
Read the EIFL draft law on copyright (2014) here.
Attend 'The updated EIFL draft law on copyright: a webinar', 4th December 2014.