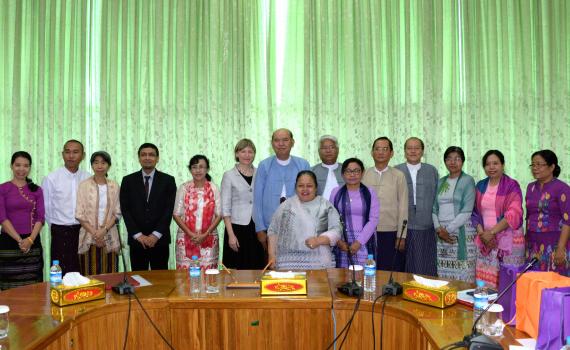 EIFL and the Myanmar Department of Higher Education have signed a memorandum of understanding (MoU) that will further develop university libraries in Myanmar, and contribute to Myanmar's national strategy for higher education reform.
The signing ceremony took place on 25 April 2017 at the Ministry of Education Office in Naypyidaw, capital of Myanmar. The Director General of Higher Education, Professor Dr Thein Win, signed the MoU on behalf of the Myanmar  Department of Higher Education. EIFL Director Rima Kupryte signed on behalf of EIFL.
Delegates to the meeting included the Permanent Secretary of the Ministry of Education, Dr Soe Win, the Director of Open Society Foundation Myanmar, Wynn Thane, the rectors of seven universities that are taking part in the EIFL e-Library Myanmar project, and EIFL project coordinators in Myanmar.
The MoU expands the reach and scope of the EIFL eLibrary Myanmar project, which was created in 2013 to enable libraries at universities under the control of the Ministry of Education to provide effective support for teaching, research and learning. There are 158 universities in Myanmar under the Ministry of Education. After years of isolation, their libraries had very limited print collections, and no universities had access to online resources at the start of the project.
EIFL'S future contribution
Addressing the meeting, Kupryte outlined EIFL's contribution under the new agreement:  "We will strive to work together to include a further five universities in the project, to assist in creating more institutional repositories for partner universities' research output, and continue with joint efforts to integrate e-resources in teaching and research.
"We will also facilitate expert advice on issues of infrastructure development, and ICT relevant to the implementation of the eLibrary Myanmar project, in particular, reliable internet connectivity and adequate technology to meet the information needs of students and academic staff," she said.
The expanded project will impact on the lives of many more students, teachers, scholars, researchers and librarians throughout Myanmar.
Kupryte thanked the Ministry of Education, the Open Society Foundations Higher Education Support Programme and all EIFL's partners in the eLibrary Myanmar Project for their support, and for giving other universities the opportunity to take part in the project.
SEE HOW MEDIA IN MYANMAR FEATURED THE MOU CEREMONY
National TV station, MRTV (news item in Burmese)
BACKGROUND
Since 2013, the eLibrary Myanmar project has provided access to an impressive range of high quality international journals, databases and e-books to partner universities;  contributed to creation of institutional open access repositories – the first in Myanmar - at two universities, and supported development of a consortium of academic libraries, the Myanmar Academic Library Consortium (MALC). In addition the project has built capacity of students, faculty and librarians in copyright and open access, and raised awareness about the changing landscape of scholarly communication.
Read more about the EIFL eLibrary Myanmar project.