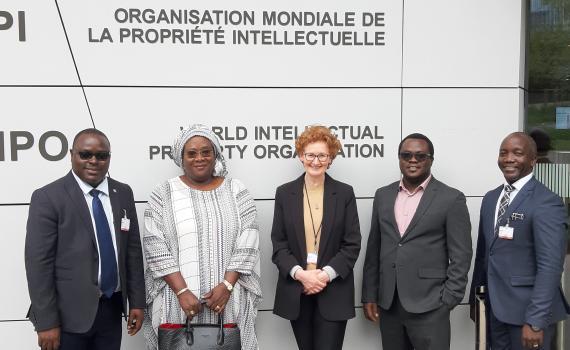 The 42nd session of WIPO's Standing Committee on Copyright and Related Rights (SCCR), the global forum that sets international copyright law and policy, took place in Geneva from 9 - 13 May 2022  - the first full meeting since the start of the COVID-19 pandemic late in 2019. 
There was record attendance. Mid-way through the week, the Secretariat announced that 590 participants were registered for SCCR, attending in-person and online, with the number expected to reach 600 by the end of the meeting. 
EIFL was represented by Teresa Hackett, EIFL Copyright and Libraries Programme Manager, Dick Kawooya, University of South Carolina, USA; Anthony Kakooza, Makerere University, Uganda; Desmond Oriakhogba, University of Venda, South Africa, and Awa Cissé Diouf, Universite Cheikh Anta Diop (UCAD), Senegal.
A boost for library and research rights
The rights of users of the copyright system, in particular libraries and researchers, got a boost with the adoption of three specific lines of action to be presented at the next meeting of the SCCR, in 2023.
First, the Secretariat will present a toolkit on preservation by cultural heritage institutions to guide countries that are amending their copyright laws. The toolkit will be developed by the authors of the WIPO studies on limitations and exceptions (L&Es) for libraries, archives and museums. The studies showed that the copyright laws of many countries are simply not equipped for modern preservation needs.
Second, the thorny topic of cross-border uses of copyrighted works, that involve the sending and receiving of copyright protected material across multiple jurisdictions, will be analyzed by experts and member states who will discuss problems and possible solutions. At previous SCCRs, libraries and archives presented extensive evidence of information denied when copyright exceptions stop at the border. 
Third, the Secretariat will commission a scoping study on the issue of exceptions for research in national copyright laws, including modern research methods, such as text and data mining (TDM).
In addition, there was discussion of the proposed treaty for the protection of broadcast organizations, the proposal for a study on Public Lending Right (PLR), and the impact of COVID-19 on the copyright ecosystem. Read Teresa Hackett's blog about WIPO/SCCR 42, and statements submitted by EIFL.