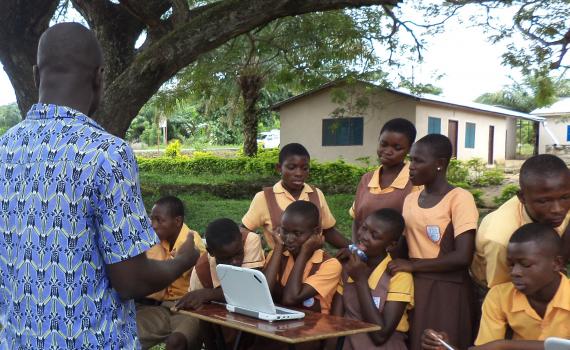 Posted: December 14, 2021
Congratulations to our long standing partner, the Ghana Library Authority (GhLA), for winning the prestigious 2021 UN Public Service Award in the category, Fostering innovation to deliver inclusive and equitable services for all through digital transformation. 
The GhLA won the award for their Hands-on Mobile ICT Classes Project, in which mobile libraries take solar-powered laptop computers and modem internet connections to the most remote and rural areas of Ghana, and conduct technology classes in communities that have no, or very limited, access to ICT.
The project's roots go back to 2012, when the EIFL Public Library Innovation Programme supported Volta Regional Library to equip their mobile library with laptop computers and solar panels and to offer ICT classes to children in poorly resourced rural schools. This pilot project was so successful that EIFL launched a fundraising campaign for it through GlobalGiving UK, attracting a major grant from the technology company, Nokia, in 2015. In partnership with the GhLA, we were able to scale up the project to three more regions, and over the next four years, the mobile libraries were able to reach over 1,800 children in 20 schools a year. 
For many of the children this was their first-ever experience of computers. The classes helped thousands of Junior High School Children to pass ICT in the Basic Education Certificate Exam - the crucial exam that determines progress to secondary school. The project's popularity with children, teachers and parents, and the remarkable exam results, inspired the Ghana Investment Fund for Electronic Communications (GIFEC), a government agency, to equip the remaining six mobile regional libraries operated by the GhLA with digital technology. Since 2020, the mobile libraries have been travelling to remote and rural areas in all of Ghana's 10 regions.
The UN Public Service Awards are the most prestigious international recognition of excellence in public service. The GhLA is the first public sector organization in Ghana to win the award.