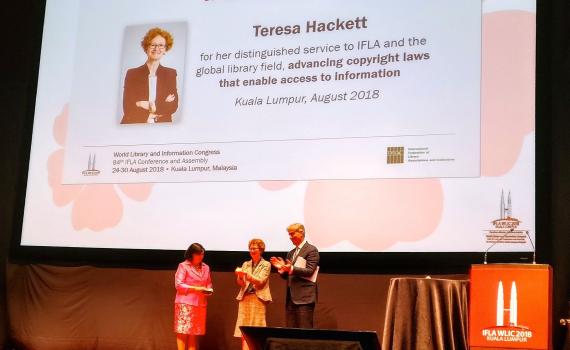 The International Federation of Library and Information Associations and Institutions (IFLA) has awarded Teresa Hackett, EIFL Copyright and Libraries Programme Manager,  the prestigious IFLA Medal in recognition of her distinguished contribution to IFLA and international librarianship, particularly in the field of copyright and for her commitment to enabling equal access to information.
The award was presented by IFLA President Glòria Pérez-Salmerón on 29 August during the Closing Session of the IFLA World Library and Information Congress (WLIC) 2018 in Kuala Lumpur.
Accepting the award, Teresa said, "I am truly honoured to receive this prestigious  award. I first became involved in copyright in the year 2000 when the first European copyright directive was going through its final reading in Parliament. I had to learn fast, get stuck in and I've never looked back!
"Early on, I came to realize how vital it is for libraries, as public interest institutions, to be involved in shaping modern copyright laws. Copyright underpins equal and free access to information and knowledge," she added.
"I am personally very pleased that the international library community has recognized Teresa's work. The EIFL programme that Teresa manages advocates for national and international copyright law reform, and supports librarians to become advocates for a fair copyright system. I know that working in an area that involves changing policies and laws takes a lot of time and requires patience, optimism and resilience. Teresa has these qualities in abundance. In the 13 years that Teresa has been working for EIFL, there has never been a single moment where she hesitated in taking forward the cause," said EIFL Director Rima Kupryte.
This is the second time an EIFL staff member has received an IFLA Medal. Ten years ago, in 2008, EIFL Director Rima Kupryte received the IFLA Medal for her contribution to international librarianship and sharing information at a global level.
The IFLA Medal is awarded at the discretion of IFLA's Governing Board based on nominations put forward by the international information and library community to a person who has made a distinguished contribution either to IFLA or to international librarianship.