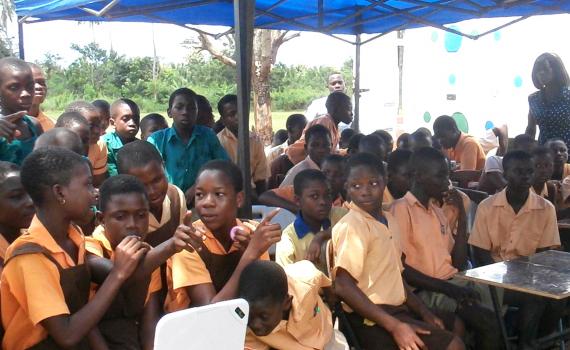 Posted: February 12, 2015
Over 1,800 children in Ghana will benefit from a new grant EIFL has received from the technology company Nokia to scale up an EIFL-supported public library project in Ghana's Volta Region.
The grant was made possible by the United Kingdom-based charity, GlobalGiving UK, which is a Nokia company partner.  
EIFL was one of three organizations selected by Nokia for a fundraising event held in Berlin in November 2014 to demonstrate Nokia's commitment to technology that meets real human need. At the event, Nokia Senior Leaders awarded EIFL the grant. 
Funds to expand 'Hands on computer classes' project
The Nokia grant enables EIFL to expand Volta Regional Library's 'Hands on computer classes for 450 Ghana children' project in Ho Municipality by providing the library with additional laptop and tablet computers, and to extend the project to three more regions in Ghana, where public libraries will reach 1,800 more children.
EIFL posted the Volta Regional Library project to the GlobalGiving website in April 2013, and through an intensive fundraising campaign, raised more than 7,000 USD from over 70 individual and corporate donors.
"The Nokia grant is a tremendous opportunity for us to show how – with the right technology – public libraries can support children's education and contribute to local community development," said EIFL Director Rima Kupryte.
"Our experience with Volta Regional Library has shown that libraries can offer a cost-effective and sustainable model for providing access to technology and improving education in rural schools. We thank Nokia and GlobalGiving UK for their confidence in our programme, and welcome the opportunity to expand the project to three more regions in Ghana.
"We also again thank the many individual EIFL supporters and partners who supported the 'Hands on computer classes for 450 Ghana children'," added Kupryte.
Mobile computer classes in high demand
Volta Regional Library launched their mobile computer classes in 2012 with a small grant from the EIFL Public Library Innovation Programme (EIFL-PLIP). Computer and internet skills are compulsory subjects for Junior High School children (ages 11-16). However, many schools do not have computers, internet connections or electricity and so the children cannot practice. They fail their computer exams and cannot progress to secondary school.
Volta Regional Library's solution is to take solar-charged laptop computers to schools in a mobile library van equipped wi-fi internet and solar panels. Working with headmasters and teachers, the librarians teach the children how to use the laptops and give them the opportunity to practise their skills.
The library's mobile classes are in high demand. In the 2013/14 school year the library's itinerary included five schools and just over 600 pupils. Now the library regularly visits 10 schools, reaching 1,400 pupils.
Exam results for 2014 show what a difference the library's classes are making: at Mawuli Junior High School 84% of students passed their computer exams; at Ziave Dzogbe Junior High School, 39% passed (up from just 6% in 2013); at Klefe Achatime school which took the exam for the first time, 39% of students passed.