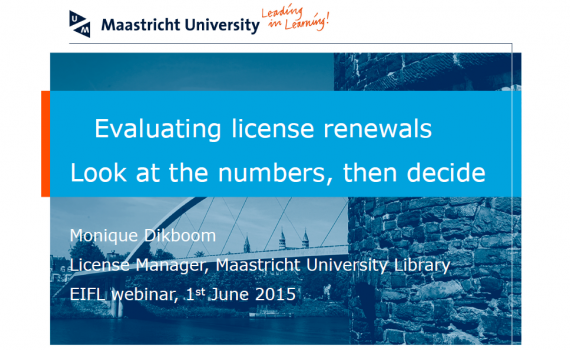 Every year librarians are faced with a challenge: subscription prices increase, while budgets decrease or stay the same. This makes staying within the budgets an annual challenge.
On 1 June 2015 EIFL held a webinar, with guest speaker Monique Dikboom, licence manager at Maastricht University Library in the Netherlands, to discuss the evaluation of subscription renewals.
Participants from nine countries (Angola, Latvia, Lithuania, Palestine, Serbia, Sweden, Thailand, Ukraine, Zambia) attended the webinar, which was organized by the EIFL Licensing Programme.
During the webinar, librarians learned about key aspects to consider when it comes to renewing big package deals as well as subscriptions to individual titles.
First, Monique Dikboom gave an overview of her university and its focus on Problem Based Learning, and how the library supports this approach: lots of study space, flexible opening hours, multimedia facilities, and, of course, a diverse collection.
At Maastricht, the journals holdings can be divided into 'big deal' package subscriptions (mostly negotiated through the Dutch national consortium), subscriptions to individual titles, and some leftover paper subscriptions. To determine the value of the big deals, Monique and her team at Maastricht built an automated tool. They collected key data from colleagues: a list of core titles supplied by each faculty, usage statistics for each title, impact factors, and prices.
Based on this data, the tool, built by their IT department, calculated whether it was cheaper to subscribe to a big package deal, or to the individual core titles. They concluded that it was up to 40% cheaper to subscribe to a package deal. The other advantage of the big package is that it includes a lot more titles than the core titles listed by subject librarians; at Maastricht, they found that these additional titles were used a lot, which meant that the overall package was of great value. In general, Monique noted that, due the increase of publisher's prices and decrease of libraries' budgets, renewing 'big deal' package subscriptions is not as obvious as it used to be. In many cases, cancellations are unavoidable, and strict negotiations are needed.
Monique and her team also had a look at the renewal of individual journal subscriptions to try to keep the increasing prices under control: they asked every publisher who insisted on a 5% or higher increase to justify the reasons for this increase; they checked with their collection managers if any subscriptions could be cancelled; they questioned particularly expensive subscriptions; and asked for new prices as of September instead of waiting for the publishers to supply the prices at the end of the year.
The webinar concluded with some general advice on renewals and negotiations with publishers.
WATCH THE WEBINAR NOW
More information about this webinar, where you can view the recording of the webinar and download the slides.