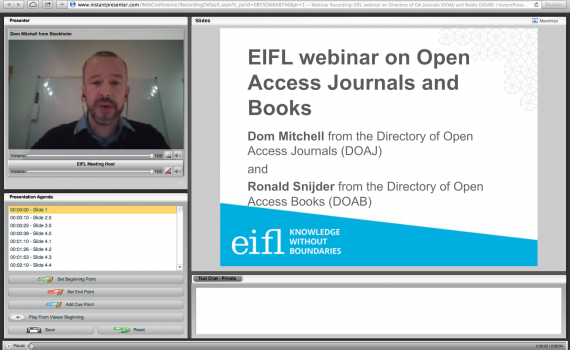 EIFL recently held a webinar showcasing the Directory of Open Access Books and the Directory of Open Access Journals, the two leading directories of Open Access content. During the interactive webinar librarians and researchers learnt how they can use and promote quality-controlled open access (OA) content.
On 11 March 2015, 47 participants from 14 countries (Afghanistan, Austria, Belarus, Croatia, Ghana, Hungary, Latvia, Lithuania, Moldova, Nigeria, Palestine, Spain, Sweden and the UK) attended the webinar, which was jointly organized by the EIFL Open Access Programme and Licensing Programme.
First, Dom Mitchell gave some background on the Directory of Open Access Journals (DOAJ), a database listing high quality, peer-reviewed, Open Access journals covering all disciplines and all languages. The DOAJ is a global initiative, with both content and usage coming from all over the world. The DOAJ currently holds metadata from over 10,300 journals, and over 6,150 journals are searchable at article level. 
Dom stressed the quality of the content listed in the DOAJ directory; in March 2014 a new application process was put into place with a special focus on quality, openness and delivery or technical quality, encouraging all current  journals to reapply. 
DOAJ has approximately 100 skilled, voluntary Associate Editors and Editors who spend a few hours a week processing new journal applications. They are always looking for volunteers in the following languages: Arabic, Chinese, Farsi, Hungarian, Indonesian, Polish, Portuguese, Russian, Spanish, Turkish. Find out more and apply at: https://drive.google.com/file/d/0B0fPCpIPjZlmTksySGFHc2pJT3c/view?usp=sharing. 
Next, Ronald Snijder spoke about the Directory of Open Access Books (DOAB), currently holding metadata and links to the full text of 2,700 books from over 90 publishers. Ronald also explained about the OAPEN initiative; a library hosting the full-text of more than 2,300 Open Access books. The DOAB includes links to the full-text books in OAPEN if available. Here also, quality assurance as well as dissemination is one of the main focus areas.
The DOAB also has a widget that can be included on a library's website to search the directory from there: add the DOAB search box to your website. DOAJ is looking to develop a similar tool. You can also get journal metadata from DOAJ, read more here.
After the presentations, attendees had the chance to ask questions and interact with the presenters. 
WATCH THE WEBINAR NOW