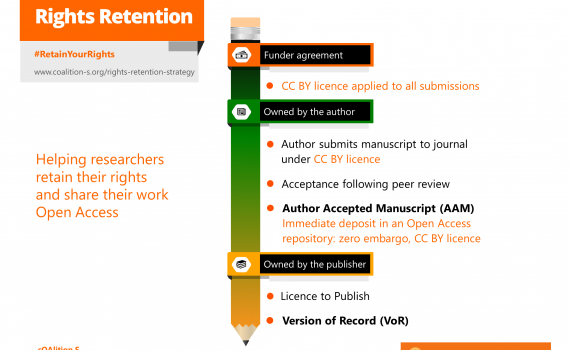 cOALition S - a group of national research funding organizations and charitable foundations committed to making full and immediate open access to research publications a reality - has announced a Rights Retention Strategy for researchers. 
cOAlition S organizations will change their grant conditions to require that a Creative Commons Attribution licence (CC BY) is applied to all Author Accepted Manuscripts (AAMs) or Versions of Record reporting original research, supported in whole or in part by their funding. What this means is that researchers will immediately be able to deposit their AAMs in repositories and provide open access, without any embargo. 
"The COVID-19 crisis has clearly shown that embargo periods are indefensible. No private or business interests can justify that new and original research results are held back for six or 12 months from other scientists, practitioners, governments and authorities, medical staff, patients and patient associations – especially those who are economically disadvantaged, who cannot afford expensive access tolls," said Marc Schiltz, President of Science Europe and Chair of the cOAlition S Leaders Group.
"The manuscript belongs to the author, even after peer review!" stressed Johan Rooryck, Executive Director, cOAlition S in the media release announcing the strategy. 
The cOAlition S Office is contacting around 150 subscription/mixed model publishers – who collectively publish the majority of research articles attributed to cOAlition S organizations – to encourage them to modify their existing publishing agreements to allow all authors to make their AAMs available at the time of publication with a CC BY licence. A number of publishers, such as the Royal Society and the Microbiology Society already grant these rights to all authors.
EIFL welcomes the Rights Retention Strategy that will make it easier for repositories to provide full and immediate open access, and encourages researchers and publishers to follow it. Creative Commons licences are internationally recognized, well-established, and both human-readable and machine-readable. CC BY 4.0 is the most liberal Creative Commons licence that ensures repositories interoperability and also allows users and machines to re-use content in data analytics, text and data mining, etc. 
EIFL has been working on a campaign called 'Your Work. Your Rights. KNOW.THINK.RETAIN', re-using the concept of 'Think.Check.Submit' that helps researchers identify trusted journals and publishers. When researchers publish their articles in open access journals, they retain their full copyrights. However, if they choose to publish in a subscription access journal, they are required to sign a form transferring some – or all – of their copyrights to the publisher. With our campaign, we want to raise the awareness of researchers about their intellectual ownership rights and power to suppress unreasonable embargo periods.
The cOALition S Rights Retention Strategy now makes it much easier for researchers to retain their copyright and strengthens our campaign. Over the coming weeks, the cOAlition S Office will be hosting a series of webinars to provide further information and to answer any questions publishers and journals editors may have about the Rights Retention Strategy.