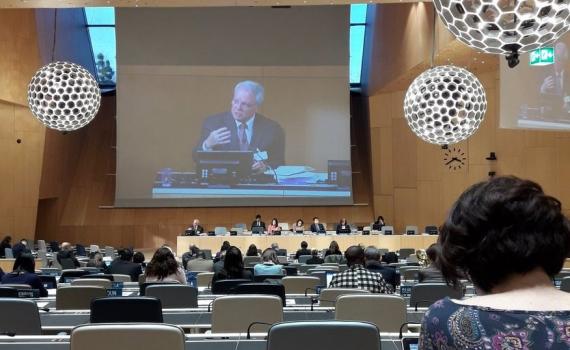 Posted: November 25, 2017
EIFL Copyright and Libraries Programme Manager Teresa Hackett attended the 35th meeting of WIPO's Standing Committee on Copyright and Related Rights (SCCR) which met from 13 - 17 November in Geneva.
The SCCR, which meets twice a year, featured six eminent professors who gave presentations on topics currently under discussion by the committee, that included presentation of an updated study on limitations and exceptions for libraries and archives by Professor Kenneth Crews.
New data from the Crews study illustrates three important points. First, new laws are not providing for current technologies widely used by libraries, students and educators everywhere. Second, there is a growing inequality in the means to legally access knowledge that will only serve to drive people towards unauthorized sources. Third, WIPO needs to take a leadership role in setting firm international standards for the sake of access to knowledge and the credibility of the copyright system.
Progress was made on a draft action plan on limitations and exceptions with all member states agreeing that it was a good basis for making progress on libraries and other beneficiary groups. A revised plan will be considered for adoption at the next session in 2018.
During the week at SCCR, EIFL made four interventions, worked closely with over 20 colleagues from the international libraries, archives and museums community, and attended a lunchtime event with almost 100 delegates on copyright and education in the digital environment.
Read Teresa Hackett's blog with highlights from a busy week in Geneva.