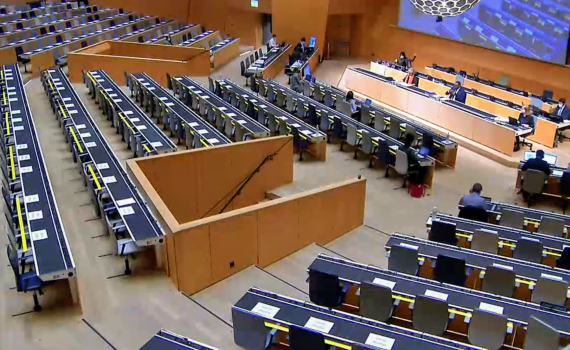 Posted: November 22, 2020
The WIPO (World Intellectual Property Organization) Standing Committee on Copyright and Related Rights (SCCR/40) met from 16 - 20 November 2020, for the first time in over a year due to the COVID-19 pandemic. 
EIFL was represented by Teresa Hackett, EIFL Copyright and Libraries Programme Manager, and Dick Kawooya, University of South Carolina, who called for fair access to broadcast content by libraries, adoption of a work plan digital preservation, and highlighted the challenges of public lending right in developing countries.
The meeting took place in hybrid mode, meaning that physical participation was limited to a small number of Geneva-based member state delegates, and everyone else participated remotely over five days, for two and a half hours each day. 
Due to the unusual circumstances, the SCCR's new chair, M. Aziz Dieng from Senegal, announced at the start of the session that the meeting would not engage in any negotiations or decision-making but would instead take stock of the committee's work.
Read Teresa Hackett's blog about WIPO SCCR/40.