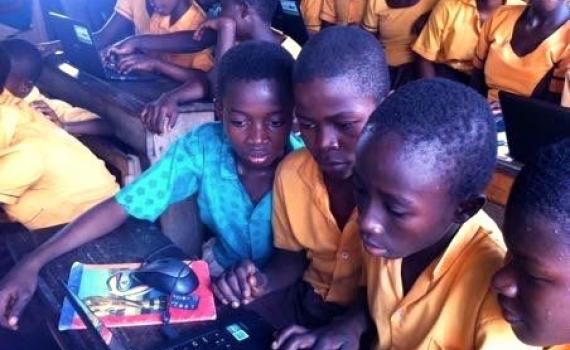 Posted: December 23, 2018
Almost all of the children (98%) who attended EIFL-supported hands-on computer classes in under-resourced schools in three regions of Ghana have passed ICT in the Basic Education Certificate Exam (B.E.C.E) in 2018.
The 98% pass-rate is more than double the average pass-rate in 2015 (45%) when the project started. These fantastic results are a tribute to over three years of hard work by regional libraries, and to the support of many generous people who have donated to our project through the GlobalGiving online fundraising platform.
The B.E.C.E. is crucial, because it is the exam that determines entry to secondary school. Children from poor families who fail the B.E.C.E. face uncertain futures because many parents cannot afford to keep them in school. To pass the B.E.C.E. the children must pass their technology (ICT) exam.
"I can proudly say that ICT  was the subject with the highest grades in the B.E.C.E. The project has transformed the children to become computer literates!" said Ms Veronica McCarthy, head teacher at Aboadze Catholic Junior High School in Western Region.
Results of three years of teaching
Every week of the school term, four mobile libraries travel long distances over rough roads to offer practical ICT classes to 1,800 children. The library vans are packed with solar charged laptops, modem internet, screens and projectors. Because textbooks are scarce, the laptops are pre-loaded with educational materials, giving the children the opportunity to study other school subjects.
The 741 children who passed in 2018 are from schools in Ashanti, Upper East and Western Regions. They began taking classes three years ago, when they were in Grade 1. Every year, the libraries' classes have steadily built their ICT knowledge and skills. By the time they reached Grade 3 in 2018, they were more than ready to face the B.E.C.E. [Note: we are still waiting for results from schools in Volta, the fourth region that the project reaches.]
"When we can practice, the examination becomes very easy because we always remember what we practice! The library's classes have also helped us students to do online research - and to acquire more information about what we are taught in class. This has helped boost our performance," said Juliet Abugri, a student.
"My students are now able to perform complex mathematical calculations using software installed on the computers. Presenting lessons with computers makes learning real and comprehensive," said Edwin Tagoe, an ICT teacher.
We've chosen the Hands-on computer classes project for our year-end fundraising campaign. Thank you to everyone who has donated for contributing to these excellent exam results. So far this year, we have raised almost US$2,000 - that will give 60 children hands-on computer classes for one year. We want to reach more children. There's still time to give. Click here to donate.