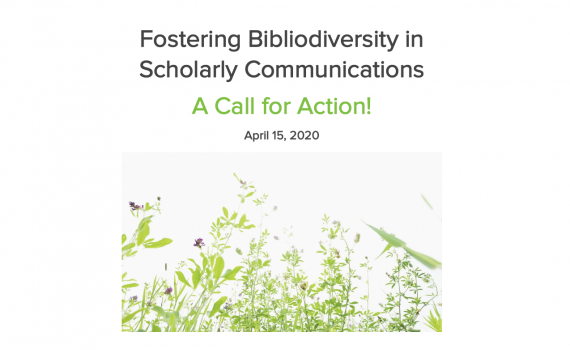 EIFL has co-authored a paper calling on researchers, universities, libraries, policy makers, funders and infrastructure providers to work together to support greater diversity in scholarly communications - referred to as bibliodiversity.
The paper argues that diversity is an essential characteristic of an effective scholarly communications system that can address complex challenges faced in today's world. 
Titled 'Fostering Bibliodiversity in Scholarly Communications – A Call for Action!', the paper is written by Leslie Chan, Centre for Critical Development, University of Toronto Scarborough; Iryna Kuchma, EIFL Open Access Programme Manager; Pierre Mounier, EHESS/OpenEdition, OPERAS, and Kathleen Shearer of COAR (Confederation of Open Access Repositories).
It urges greater diversity in services and platforms, funding mechanisms, and evaluation measures that will allow the research communications to accommodate the different workflows, languages, publication outputs, and research topics that support the needs and epistemic pluralism of different research communities. Diversity also reduces the risk of monopoly and high prices for publishing and accessing research.
EIFL's support for bibliodiversity
The EIFL Open Access Programme advocates for and supports bibliodiversity. We help to set up institutional and national open access repositories that are interoperable and encourage use of shared infrastructures. EIFL-OA Manager Iryna Kuchma serves on the International Advisory Committee of Coalition Publi.ca, a Canadian initiative developing a non-commercial open source national infrastructure for digital scholarly publishing, and the Community-led Open Publication Infrastructures Project (COPIM) Advisory Board.
Our open science policy advice ensures diversity in scholarly communications and strong, community-governed infrastructure, and adheres to the principles of open, transparent, inclusive and equitable access. We promote DORA (the Declaration on Research Assessment), which recognizes the need to improve the ways in which the outputs of scholarly research are evaluated, and encourage institutions in EIFL partner countries to endorse it. Through the OpenAIRE project, where EIFL is a partner, we promote sustainable cooperative and non-APC open access publishing models, moving towards a more sustainable and diverse open access publishing future.
The paper builds on the principles Jussieu Call for Open Science and Bibliodiversity, launched in October 2017, that has been signed by many organizations. In addition to calling on the scholarly community broadly to endorse the Jussieu Call and to develop coordinated strategies to support bibliodiversity, the call addresses particular communities:
Funders and Institutions
Endorse the DORA and work with peers to develop and adopt more relevant and fair methods for assessing research
Fund and support local, national and regional open, interoperable infrastructures and services
Policy Makers
Include bibliodiversity as an underlying principle in the context of open science and open access policies
Develop frameworks that ensure scholarly communications policies, incentives and funding are aligned with, and not inhibiting, local and national research priorities and values
Libraries, Consortia, and Library Associations
Assess levels of diversity of existing investments
Establish standard models and criteria for funding alternatives to "pay for access" or "pay to publish" (transactional funding models) so that libraries can more easily invest in diverse content and services, including open infrastructure
Infrastructure Providers
Adopt community governance models for services
Use open and interoperable standards
Collaborate with other organizations to develop shared infrastructure
Researchers
Use open and community-based infrastructures and take part in their governance
Advocate for these infrastructures and make the case for their value with peers.
Read the full paper and call to action here.
Sign the Jussieu Call.