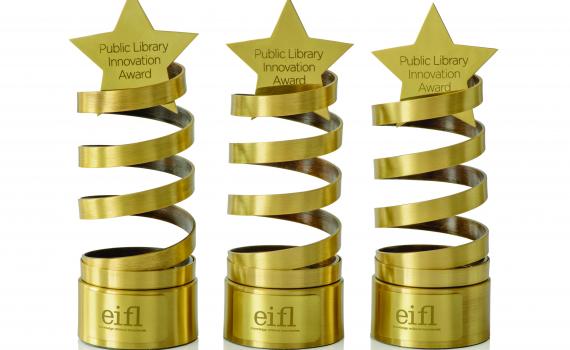 We are delighted to announce the winners of the ninth EIFL Innovation Award, for public library services improving people's lives.
The four libraries, in Africa, Europe and the Caribbean, use digital technology and fun activities to improve lives in their communities by addressing development issues included in the United Nations 2030 Agenda for Sustainable Development.
Congratulations to –
Each winner receives a prize of US$1,500, a certificate and a trophy. Awards will be presented at an award ceremony during the 2016 IFLA World Library and Information Congress, which takes place from 13–19 August in Columbus, Ohio, in the USA.
Thanks to the winners and to all the other applicants for sending us stories about their innovative services.
The EIFL Public Library Innovation Awards recognize innovative library services that use ICT to improve lives and livelihoods. The awards are open to all public and community libraries in developing and transition countries.
Read more about the EIFL Public Library Innovation Awards, and meet the winners of past awards.