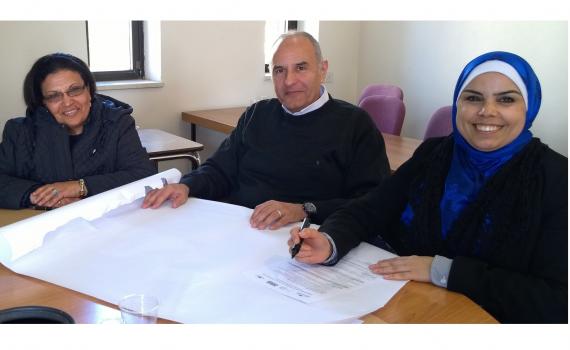 Erasmus+, the European Union Programme that supports education, training, youth and sport, has just approved funding for a new three-year open access (OA) project in Palestine.
The project, titled 'Research Output Management through Open Access Institutional Repositories in Palestinian Higher Education' (ROMOR for short), is a partnership between EIFL, four Palestinian universities and four European universities. It will build capacity for research output management by establishing OA institutional repositories in the four Palestinian universities.
The four Palestinian universities are: the Islamic University of Gaza, which will coordinate the project, Al Quds Open University, Birzeit University, and Palestine Technical University - Kadoorie. The four European universities are: Vienna University of Technology (Austria), the University of Parma (Italy), and the universities of Brighton and Glasgow (both in the United Kingdom).
EIFL AND PALICO TO PROVIDE TRAINING
EIFL and EIF's partner in Palestine, the Palestinian Library and Information Consortium (PALICO), which unites libraries in the West Bank and Gaza, will provide training to set up, populate and manage OA repositories, to speed up OA advocacy and awareness raising activities, and to build understanding of copyright issues.
The project team will work with two other agencies:
The Accreditation and Quality Assurance Commission at the Palestinian Ministry of Higher Education, which will monitor and evaluate the project as an external partner, and ensure that project is sustainable at the end of the three-year project period;,and
The Palestinian Research Council at the Palestinian Ministry of Higher Education, which will help prepare recommendations and formulate policies for the institutional OA repositories, and accelerate advocacy activities for populating and scaling up institutional repositories.
EIFL congratulates all the project partners. We look forward to being a part of this very important and exciting project!
Read more about EIFL's open access work in Palestine here.