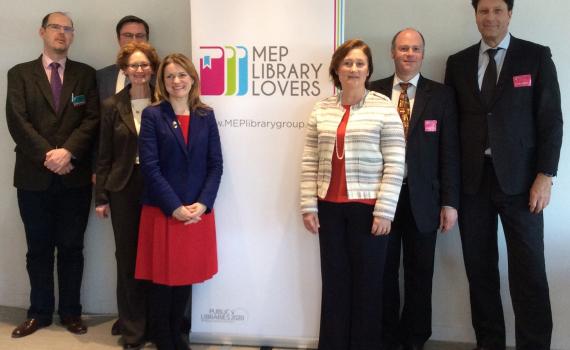 On 15 March 2017, EIFL Copyright and Libraries Programme Manager Teresa Hackett joined a panel discussion at the European Parliament in Strasbourg that presented three important topics that have until now received less 'air time' in discussions on European Union (EU) copyright reform.
European Commission (EC) proposals on copyright reform, published in September 2016, are currently being scrutinized by the European Parliament before going on to the Council of the EU, the voice of EU governments, for the final stage of the co-decision making process.
The topics addressed in the lunchtime event entitled 'Over 100 million library users in the EU: how can copyright reform help them?' were access to digital collections in the library (so-called dedicated terminals provision), making out-of-commerce works available to the public, and cross-border document supply between libraries.
The lunchtime event was attended by about 30 Members of the European Parliament (MEPs) or their assistants from across the political spectrum. It was hosted by MEP Therese Comodini-Cachia, who is charged with drawing up the report of the lead European Parliament committee - the Legal Affairs Committee - on EC proposals for copyright reform.
EIFL presented the topic cross-border document supply, explaining with evidence and examples what document supply is, how it supports global research, and why we need a cross-border exception in Europe. EIFL welcomed the inclusion of an amendment in support of document supply in the Draft Opinion of the committee on Internal Market and Consumer Protection (IMCO) on the EC's copyright reform proposals.
The other panelists on the day were Frédéric Blin, National University Library of Strasbourg, Jan Muller from Europeana and the Netherlands Institute for Sound and Vision, and Ben White, representing the Conference of European National Libraries (CENL).
The presentations were followed by a question and answer session. Closing remarks were by MEP Catherine Stihler, rapporteur for the Draft Opinion of IMCO.
The event was organized by Public Libraries 2020 in cooperation with the International Federation of Library Associations and Institutions (IFLA), the European digital library, Europeana, the European Bureau of Library, Information and Documentation Associations (EBLIDA) and the Association of European Research Libraries (LIBER).
Read the EIFL presentation, Cross-border document supply between libraries: why we need a copyright exception.
Click here to see the event flyer.
Further reading
EIFL information note on inter-library document supply, a behind the scenes library operation that fulfills a fundamental goal.
EIFL blog on why we need a copyright exception for cross-border document supply.
Evidence and examples from the international library and archive community on why we need an international treaty for cross-border access to knowledge, compiled by EIFL.