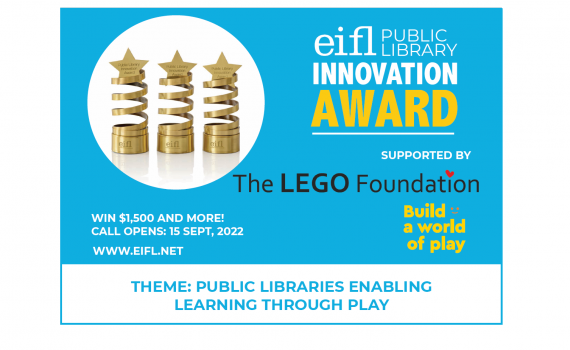 The 2022 EIFL Public Library Innovation Award, with support from the LEGO Foundation, will be awarded to public and community libraries that have proved excellence in enabling learning through play.
The LEGO Foundation is dedicated to ensuring that children globally are given opportunities to learn through play, which develops in them essential skills to thrive in life and reach their full potential.
"The 2022 award, which we will be announcing in September, with the LEGO Foundation is a fantastic opportunity for local libraries to share creative practices that enable children to learn new skills through play," said Ramune Petuchovaite, Manager of the EIFL Public Library Innovation Programme.
"Children deserve to have safe spaces where they can learn, explore, and grow. Our evidence has shown that learning through play develops holistic skills in children and sets them up for greater success in life. The LEGO Foundation's Build of World of Play campaign aims to support community hubs, such as libraries and museums, to be centres for playful learning for the communities they are in. Which is why we are happy to support public libraries through the EIFL Public Library Innovation Award," said Søren Holm, Head of Experiences & Facilitation at the LEGO Foundation.
The EIFL Public Library Innovation Award brings international visibility and recognition for outstanding public library programmes and services that make a difference to local communities. In 2021 EIFL celebrated the 10th anniversary of the award.
The award for public libraries enabling learning through play will open for applications on 15 September 2022. Up to three winners will be selected by a panel consisting of professionals from the international library, and research in play and learning fields.