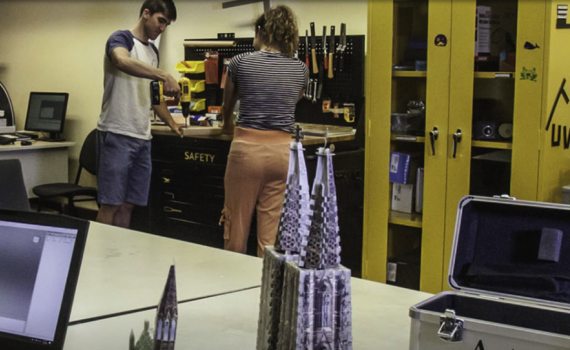 EIFL and IFLA (the International Federation of Library Associations and Institutions) organized an online event to mark World Intellectual Property Day on 26 April. The theme of this year's World IP Day, organized each year by the World Intellectual Property Organization, was 'IP & SMEs: Taking your ideas to market'.
To highlight the theme, we decided to showcase the work of libraries in helping SMEs (small and medium-sized enterprises) and start-ups to get their business ideas off the ground or, due to the impact of COVID, to change their business focus. Over 170 people from over 50 countries registered for the webinar, 'Libraries mean Business'.
Helping businesses to become IP savvy
Studies show that when businesses are IP savvy, they do better. Libraries around the world help small businesses to become IP savvy through training in how to acquire and manage their IP rights, as well as searching and reading patents.
"Librarians were made to teach patents and trademarks, the skill set for information science is exactly the same," - Tara Radniecki, Head of DeLaMare Science & Engineering Library, Patent and Trademark Resource Center Librarian, University of Nevada
And it turns out that libraries have much more to offer entrepreneurs, as highlighted by our speakers who came from three different types of library: a national library (the British Library), an academic library (University of Nevada), and a public library (Dublin City Central Library).
For example, libraries provide access to high quality, up-to-date business resources otherwise available only through paywalls (the British Library values its business databases at £5 million pounds sterling). Through one-on-one consultations, libraries meet people wherever they are in their business journey - from the first spark of an idea to finalizing a business plan. And because starting a new business can be a lonely path, they also bring entrepreneurs together in organized events and seminars. Further, libraries provide access to wifi and specialist equipment, such as 3D printers and Virtual Reality headsets, in makerspaces where patrons can create, collaborate and innovate.
Above all, the speakers reported high levels of trust in libraries as institutions offering independent, impartial information and expertise to anyone who seeks it, free of charge.
Libraries mean business - and we were delighted to participate in World IP Day 2021! See the webinar recording and slides of the presentations.
More about World IP Day
World IP Day is an annual event, organized by the World Intellectual Property Organization (WIPO). At WIPO, the library community is primarily engaged in advocating for global copyright rules that support libraries and the people who use them, especially in the digital environment. We also raise awareness among IP policy makers of library services, and the needs of libraries when it comes to copyright and related issues.