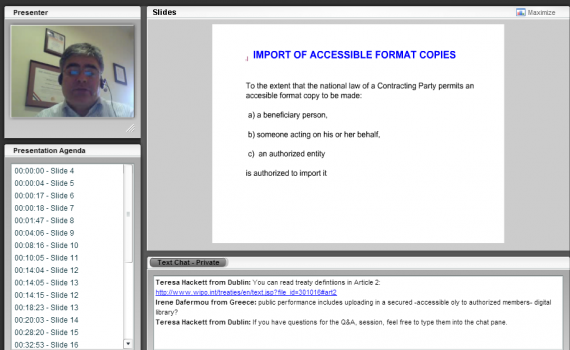 In June 2013, member states of the World Intellectual Property Organization (WIPO) adopted the "Marrakesh Treaty to Facilitate Access to Published Works for Persons Who Are Blind, Visually Impaired, or Otherwise Print Disabled".
Libraries are key to the success of the treaty for two main reasons. Throughout the world, libraries have a long history serving people with print disabilities, and only blind people's organizations, libraries and other so-called "authorized entities" can send accessible format copies to other countries.
To discuss this important treaty, the EIFL-IP programme hosted a webinar on 14 January 2015 led by Mr. Luis Villarroel Villalon LLM, Professor of Intellectual Property of Universidad Mayor (Chile), and a negotiator of the Marrkesh Treaty.
Luis provided an overview of the structure of the treaty, key definitions, as well as mandatory and optional exceptions. In addition, requirements for use and export, and for those countries that are not members of the Berne Convention and/or the WIPO Copyright Treaties were covered. Twenty-three participants from 15 countries around the world had the opportunity to ask questions after the presentation.
Because the treaty provides countries with important policy options, librarians need to be involved in the development of implementing national legislation to ensure the maximum possible benefit, and to effectively meet the objective of the treaty - to end the book famine for print disabled people.
The treaty enters into force when it has been ratified by 20 countries (so far five countries have ratified). Participants were encouraged to work with their governments to ratify the Marrakesh Treaty in their country so that the treaty enters into force at the earliest possible date.
Read The Marrakesh Treaty: an EIFL Guide for Libraries