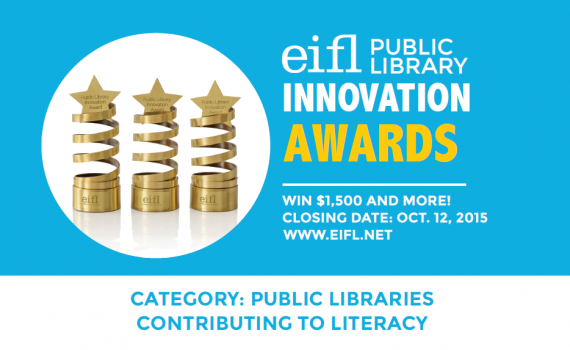 The EIFL Public Library Innovation Award for public library services contributing to literacy in the community is now CLOSED.
This call for applications is open to public and community libraries in developing and transition countries that use information and communication technology (ICT) in creative ways to improve literacy of children or adults.
The prize includes US$1,500 and wide publicity through EIFL's global communication channels and networks.
The deadline for submitting applications is 12 October 2015.
Applications will be accepted in English, French, Russian and Spanish.
There will be more than one winner. Apply and be one of them!
Read more about the EIFL Public Library Innovation Award for Public libraries contributing to literacy, and how to apply.
This is the eighth award in the exciting series of EIFL Public Library Innovation Awards.