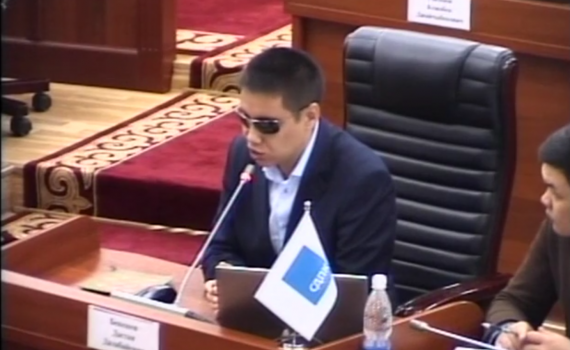 In March 2017, the law on copyright and related rights of the Kyrgyz Republic was amended to include important changes for the benefit of libraries, educational institutions and persons with print disabilities. There are also new provisions safeguarding access to works created through public funds.
EIFL warmly welcomes the changes that, taken together, herald a new law that is people-centred, pragmatic and puts education and development at the centre of copyright law and policy.
The drivers for the changes were threefold: the need to address a chronic shortage of access to textbooks in public schools, opportunities offered by the use of digital technologies by libraries and educational institutions, and accession by Kyrgyzstan of the Marrakesh Treaty for persons with print disabilities, the first international copyright treaty with human rights principles at its core.
Implementing the Marrakesh Treaty
The new provisions for persons with print disabilities implement into national law the Marrakesh Treaty to facilitate access to published works for persons who are blind, visually impaired or otherwise print disabled. The Treaty entered into force in Kyrgyzstan on 15 August 2017. The amendments largely track the Treaty language.
The disability exception has been broadened to include people who are blind or have low vision, have a learning or developmental disability such as dyslexia or autism, or a physical disability such as Parkinson's disease or paralysis. The accessible format is no longer restricted to Braille, in future the work may be converted into any format that is needed by the reader such as large print, text-to-speech or digital accessible formats.
As a result, the amount of reading material available to people who are blind and visually impaired will increase, encouraging greater participation in education, employment and social activities.
Increased access to textbooks
Another significant change concerns access to works that are created through public funds.
From now on, publicly funded works, such as school textbooks, can be made freely available under an open access licence. Until now, due to budget constraints, the government wasn't always successful in negotiating licences with rightsholders on favourable terms, even for works that the government itself had funded. In some cases, this resulted in students having no access to the textbooks. Now the situation has been transformed with over 500 secondary school texts available online under a Creative Commons Attribution (CC BY) licence in Open E-Library, a portal administered jointly by the Association of Public Libraries and the National Library.
Authors, libraries and educational institutions benefit
Authors, libraries (and the people who use them), as well as educational institutions also stand to benefit.
In response to new distribution models in the digital environment, the new law clarifies that an author has the freedom to freely license their works, for example, under an open content licence such as Creative Commons.
Libraries and educational institutions also have new freedoms. Libraries are allowed to make a digital copy of a work. A digital copy can also be made for educational purposes, and works and excerpts of works may be used as illustrations in educational publications, and for recordings such as radio and TV programs in analogue and digital formats.
In addition, libraries can engage in inter-library document supply, an important service that enables researchers and students to access material such as books or journal articles not available in their 'home library'.
Read an analysis of the changes to the copyright law (2017) in English and in Russian.
EIFL will participate in a National Seminar and Consultations with the IP Office of Kyrgyzstan on the Marrakesh Treaty in Bishkek on 23-24 April 2018.