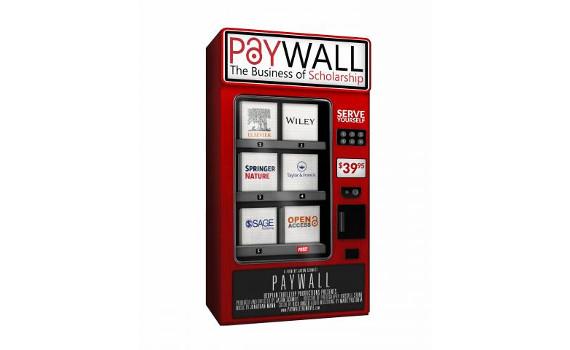 Posted: September 6, 2018
EIFL is happy to have contributed to the newly-released film, 'Paywall: The Business of Scholarship', which documents the hidden costs of academic publishing and stresses the need for open access to research and science.
The global premiere of the film took place at the Landmark Theatre in Washington, DC, on 5 September 2018. Further screenings are scheduled at over 120 universities and institutions around the world.
Produced and directed by Jason Schmitt, Chair of the Communication & Media Department at Clarkson University in Potsdam, New York, the 65-minute film questions the rationale behind the 25.2 billion US dollars paid to for-profit academic publishers every year.
Schmitt shows how access to research is often limited for those outside prestigious academic institutions - especially in developing countries - and showcases how open access repositories like arXiv.org have played a strong role in information dissemination in physics, mathematics and computer science.
'GLOBAL ENERGY AND ENTHUSIASM TOWARD OA'
"I was drawn to this documentary topic when I learned that public funds, which come out of taxpayers' pockets, fund important scientific research that is locked behind paywalls and inaccessible to the general public," said Schmitt. "As I learned about these issues, I was struck by the global energy and enthusiasm toward open access and the strong resistance to the movement by many of the world's top publishers. 
Further, I found that the funds paid to academic publishers are burdening the higher education market, contributing to the rising tuition fees at all universities, the closure of many institutions and, ultimately, limiting science and progress," he added.
Schmitt and his film crew travelled over 45,000 miles and interviewed over 70 key leaders in academic scholarship, including professors and librarians at top tier universities and leaders at Wikipedia, Creative Commons, the Smithsonian, the Royal Society, Open Society Foundations and the Bill & Melinda Gates Foundation.
Our contribution
"EIFL has been tremendously supportive of our project. Working closely with Iryna Kuchma (EIFL Open Access Programme Manager) was a great asset in understanding some of the complex issues around developing country  access to knowledge and information, and the impacts of standardized publishing practices. Rima Kupryte (EIFL Director) had faith in our project from early on and provided us with access to some remarkable footage showcasing Kenya-based libraries, which we included in our final film. I am very thankful for everything EIFL does and stands for regarding global access to critical information for under-represented communities," said Schmitt.
VIEW THE FILM AND ORGANIZE SCREENINGS
Join 120 organizations that have already signed up to screen the film - and organize a screening at your institution. Staying true to the open access model, the film is free to stream and download.
Click here to view Paywall: The Business of Scholarship.
Click here to find out more about the film and screening the film at your institution.