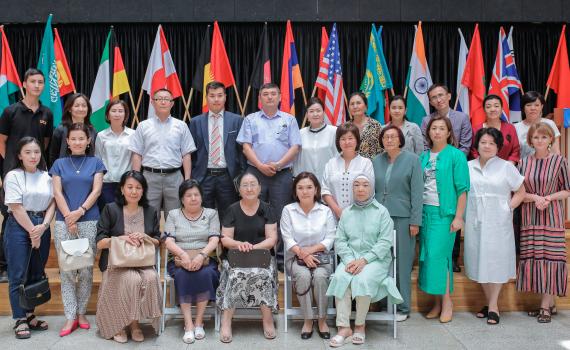 Posted: November 28, 2022
Universities in Kyrgyzstan have established an Open Access Working Group to promote open access and advance scholarly communication in universities across the country. 
Establishment of the Working Group was one of the outcomes of open access training that took place at the American University of Central Asia (AUCA) in June 2022, involving over 25 representatives from major public universities. The training, over two days, was part of a project supported by EIFL and implemented by EIFL's partner, the Kyrgyzstan Library Information Consortium. The project was titled,'Building a foundation for Open Access development across universities in Kyrgyzstan'. 
The Working Group comprises library directors, research officers, and administrators from universities in six regions: Osh State University, Jalal-Abad State University, Batken State University, Issyk-Kul State University, Naryn State University and Talas State University, and the capital city, Bishkek (Arabayev Kyrgyz State University; Karasayev Bishkek State University; AUCA; International Medical University and OSCE Academy).
Priority list for 2022-23
The Group has identified three priority activities to be implemented during the 2022-2023 academic year, namely - 
Training on launching an institutional repository;
An information session on Open Journal Systems (OJS) software for managing and publishing scholarly journals; 
Information sessions on open access publishing opportunities for authors from Kyrgyzstan. 
On 26 October, the Working Group held its inaugural activity - an online meeting within the framework of International Open Access Week 2022 (24 - 30 October) celebrations. Dr Mederbek Kadyrov from the Publishing Department of Osh State University shared the university's experience of moving their journals onto the OJS platform. Dr Kuban Akmatov from Naryn State University spoke about his experience of publishing outcomes of his research on the use of renewable energy sources in an open-access journal.
The EIFL grant has also supported development and dissemination of a handbook on open access in Kyrgyzstan, in Kyrgyz and Russian. The handbook covers the history of open access in Kyrgyzstan, current trends, and offers guidance on applying open access in practice. It is being distributed in print and electronic formats to all major universities, targeting libraries, research/science departments and doctoral and master's programmes.