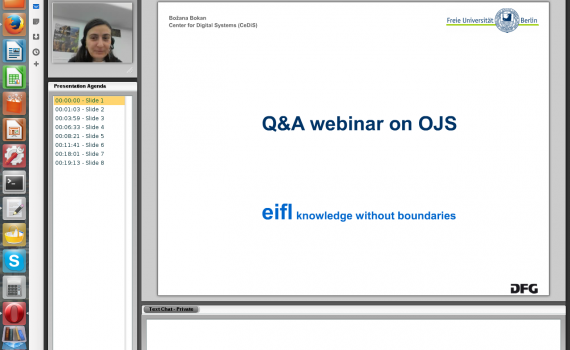 Posted: November 28, 2013
A webinar that was a joint venture between EIFL's FOSS and OA programmes took place on Thursday, November 28, with nine countries represented among the 19 delegates, including ten from Lithuania.
The Q&A webinar on Open Journal System (OJS) began with a presentation from Bozana Bokan (Center for Digital Systems (CeDiS): Open Access/e-Publishing, Freie Universität Berlin) providing an overview of the OJS software functions and focusing on recent and new features.
The main body of the webinar, however, was a Q&A session with the audience, check out the Google Drive document with some questions and answers here.
View a recording of the webinar here. (If your connection is too intermittent to view the recording online, we can provide it to you as a Zip file to download and view offline - just contact simon.ball [at] eifl.net)
Download Bozana's slides here [PDF].
You can also check out our last week's OJS webinar where Bozana provided a few more slides giving many useful links to OJS-related resource and community sites and gave a live demonstration of the software.
Background information about OJS
Open Journal Systems (OJS) is a journal management and publishing system that has been developed by the Public Knowledge Project to expand and improve access to research. OJS assists with every stage of the refereed publishing process, from submissions through to online publication and indexing. Through its management systems, its finely grained indexing of research, and the context it provides for research, OJS seeks to improve both the scholarly and public quality of refereed research. OJS is open source software made freely available to journals worldwide for the purpose of making open access publishing a viable option for more journals, as open access can increase a journal's readership as well as its contribution to the public good on a global scale.
OJS Features:
OJS is installed locally and locally controlled.
Editors configure requirements, sections, review process, etc.
Online submission and management of all content.
Subscription module with delayed open access options.
Comprehensive indexing of content part of global system.
Reading Tools for content, based on field and editors' choice.
Email notification and commenting ability for readers.
Complete context-sensitive online Help support.