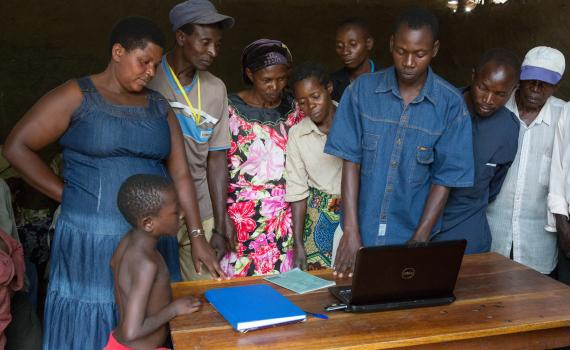 The important role of public libraries in providing public access to the internet has been recognized by representatives of governments, development banks, non-governmental agencies and industry attending a high-level a meeting in Washington DC.
The meeting, on 14 April, was organized by the US Department of State and the World Bank Group to advance the goals of the Global Connect Initiative, a multi-stakeholder programme that aims to bring 1.5 billion people who lack internet access online by 2020. Over 100 stakeholders, including representatives of 27 countries, and delegates from multilateral and regional development banks, the United Nations, non-governmental organizations, and the telecommunications and technology industries attended the meeting.
Libraries had a strong presence, represented by EIFL, the International Federation of Library Associations and Institutions (IFLA), Libraries Without Borders, the international civil society development agency, IREX, and the Gigabit Library Network (GLN).
Public libraries included in Global Connect Initiative guiding principles
Immediately after the stakeholders' meeting, the Global Connect Initiative published a set of seven principles that will guide its operations (share.america.gov/wp-content/uploads/2016/04/1.-GCI-Connectivity-Principles-FINAL.pdf).
The principles assert the importance of encouraging public access to the internet in public libraries. They also underline the importance of fostering digital literacy, and enabling and promoting the development of locally relevant content and services to increase the social and economic value of the internet.
"This is an important moment for public libraries. The Global Connect Initiative will enhance public libraries' ability to reach the information poor. As stakeholders, working to strengthen public libraries to use technology to serve communities in developing and transition economy countries, we welcome this initiative," said Janet Sawaya, EIFL Public Library Innovation Programme Advisor for Africa, who represented EIFL at the meeting.
In addition to discussing connectivity and the need for improved information and communications technology (ICT) infrastructure, delegates emphasised the importance of building corps of trained technicians to maintain ICT infrastructure.
They also highlighted the need to increase demand for internet access by raising awareness about the value of the internet in providing information.
Concerns were raised about affordability of broadband and mobile internet, especially in the world's poorest countries, and by women.
FIND OUT MORE
About the Global Connect Initiative's seven core principles (share.america.gov/wp-content/uploads/2016/04/1.-GCI-Connectivity-Principles-FINAL.pdf)