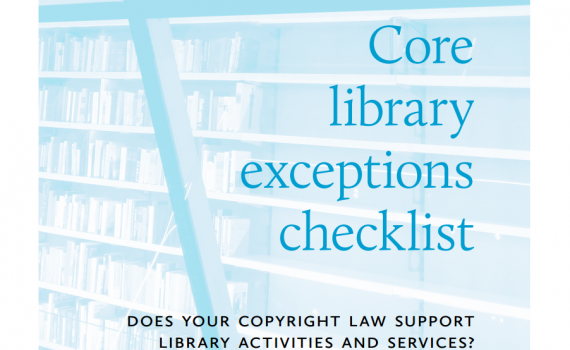 The EIFL Core Library Exceptions Checklist sets out provisions that every copyright law should have to support library activities and services in the 21st century, such as lending, making an electronic copy of a journal article or book chapter for a user, providing library material for use in virtual learning environments, and undertaking digital preservation.
The checklist is a practical way to evaluate your copyright law, identify gaps or see where the law is doing well. It is a starting point for policy advocacy, or to propose amendments if the copyright law in your country is being updated.
The checklist has 18 questions concerning core library activities and services. Each question has a short explanatory note and a model provision.
The checklist is accompanied by 'Rate my copyright law', a handy tool to rate your national law for core library provisions. You can score how the law performs out of a total of 36 points (if every question is answered), identify any gaps, or see where it's doing well.
The checklist is also available in poster format.
The materials are available under a Creative Commons licence - we encourage re-use and translation with appropriate credit to EIFL.
WHAT INTERNATIONAL COPYRIGHT EXPERTS ARE SAYING
"The checklist provides professionals in memory institutions with a unique and invaluable tool for evaluating the conditions of national law and organizing to advocate for change."
Peter Jaszi, Professor of Law, American University Washington College of Law
"EIFL has once again provided vital leadership on the development of copyright exceptions for libraries and archives.  To call this succinct and masterful guide a "checklist" can be an understatement. EIFL has prepared an invaluable overview of many issues we might look for and demand in our national copyright statutes. This guide will prove crucial for library professionals working with the law, as well as for legislators and government officials seeking to advance their national copyright standards."
Dr. Kenneth D. Crews, lawyer, professor, and international copyright consultant
THANK YOU!
EIFL is grateful to Barbara Szczepanska and Jonathan Band who provided advice on the project. We also warmly thank Professor Peter Jaszi, Winston Tabb and Jamie Love for comments.
We hope that the checklist is a practical tool that will benefit libraries and their users, and will result in improved copyright laws everywhere.
PRESS RELEASE
EIFL press release - What every copyright law should have to support libraries - download here (PDF).