Across Africa, public libraries are playing an increasingly important role in overcoming one of the continent's greatest challenges – that is, providing access to digital technology, and training communities to use technology to seek information to improve their lives.
How can African public libraries meet community development needs by integrating information and communications technology into their services? What can ensure systematic public library development and service innovations in Africa? These are the questions we are asking at the EIFL AfLIA post-conference on 3 June 2015.
Titled 'African Public Libraries on the Rise', the post-conference is organized by the EIFL (Electronic Information for Libraries) Public Library Innovation Programme (EIFL-PLIP).
WHO SHOULD ATTEND?
The post-conference is an exciting opportunity for library leaders and librarians; representatives of library authorities; trainers and educators; and partners of public libraries in Africa to discuss current trends in service innovation and development, and the future direction of public libraries in Africa. The event creates a forum for sharing knowledge, best practices and ideas about development of public libraries.
INSPIRING SPEAKERS FROM ACROSS AFRICA
Panelists include inspiring speakers from across Africa – leaders in public library development and librarians who have experience of implementing innovative public library services.
KEY ISSUES: PUBLIC LIBRARY INNOVATION AND CAPACITY BUILDING
Panel discussion will focus on two vital issues: (i) innovation to meet community needs, and (ii) building capacity of public librarians to use technology in services that support community needs.
EIFL-PLIP has supported development of new and innovative public library services that are now being offered by over 300 public libraries in Africa, Asia, Europe and Latin America.
These services are improving the lives of farmers, health workers, women and girls, pre-school children, students, job-seekers, people living with disability and many more. The services have taught thousands of people to use computers and the internet to seek information to improve their lives.
Over 20 of these services are being offered in African countries – in Ethiopia, Ghana, Kenya, South Africa, Tanzania, Uganda and Zambia.
To encourage and foster innovation, EIFL-PLIP has also launched major capacity building programmes for public librarians in Ghana, Kenya and Uganda.
POST-CONFERENCE DETAILS
Venue: GIMPA Conference Center, Ghana. Click here for further information about the venue, and directions to the centre (new2.gimpa.edu.gh/index.php?id=348).
Date: 3 June 2015, 8am – 4.30pm.
Registration: Registration is closed.
For questions. Please email to edvaldas.baltrunas@eifl.net.
A detailed programme can be downloaded here or seen below: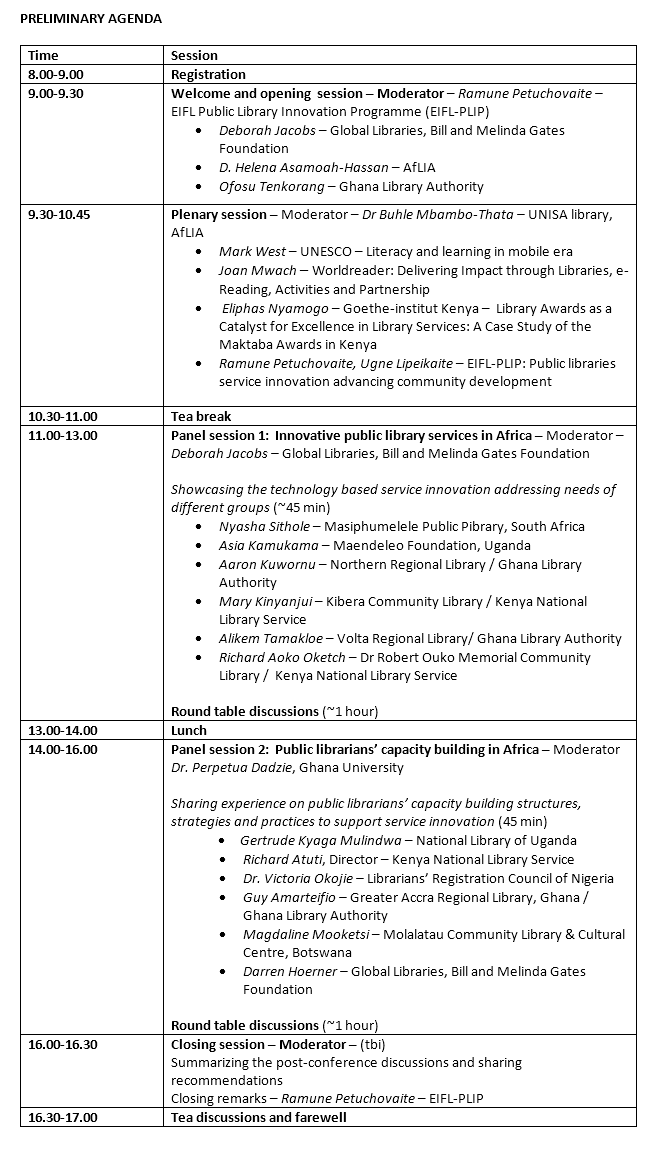 Teas and lunch will be provided.
Participants will cover their own transport and accommodation costs.
FURTHER INFORMATION
If you have any questions about the post-conference, please contact edvaldas.baltrunas@eifl.net
EIFL (Electronic Information for Libraries) is an international not-for-profit organization that works with libraries to enable access to knowledge in developing and transition economy countries in Africa, Asia Pacific, Europe and Latin America.
The EIFL Public Library Innovation Programme (EIFL-PLIP) helps connect communities in developing countries to information through public libraries by supporting creation of innovative public library services.
The 1st AfLIA conference and 3rd African Public Library Summit (aflia.net/index.php/conferences-workshops) takes place in Accra, Ghana, from 30 May to 2 June. It is organized by the African Library and Information Associations and Institutions (AfLIA).