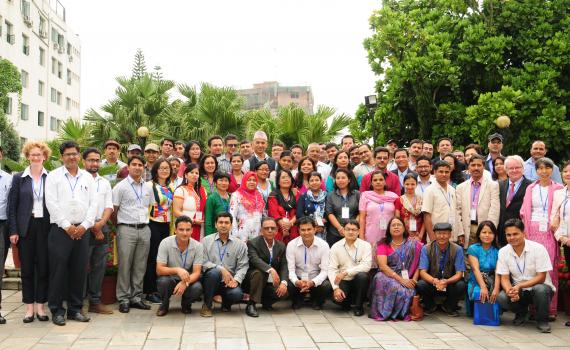 Posted: September 20, 2015
On 3-4 September 2015, EIFL co-organized the first seminar in Nepal dedicated to library copyright issues, in cooperation with our partners, the Nepal Library and Information Consortium (NeLIC). The sub-regional seminar provided an introduction to copyright and the copyright system, as well as library provisions in the copyright law of Nepal and other countries. It focused on three important areas: the Marrakesh Treaty for persons with print disabilities, the development of open educational resources (OERs), and long-term preservation of knowledge.
The level of interest was high as 85 participants from a variety of education, special and public libraries in Nepal learnt how the national and international copyright system works, debated issues such as digital copyright, and discussed challenges that libraries in Nepal face when providing access to learning materials for their users. For example, students often need printed copies of electronic resources because of power cuts that can last up to twelve hours a day.
Since the seminar was sub-regional, participants from EIFL partner countries Kyrgyzstan, the Maldives and Myanmar added a strong regional dimension. They shared their experiences on copyright with library colleagues in NeLIC during an informal roundtable discussion with the international speakers that preceded the main event.
'Right to Read campaign' Nepal
Following a productive session on the Marrakesh Treaty for persons who are blind, visually impaired or otherwise print disabled, we are delighted that participants from the disability and library communities decided to form a 'Right to Read' campaign to encourage ratification of the Treaty by the government of Nepal. EIFL will follow up on campaign activities with the Nepal Association for the Welfare of the Blind, the Nepal Association of the Blind (NAB), (adradnepal.org) Action on Disability Rights and Development, B.P. Eye Foundation and NeLIC, as well as the World Blind Union's Right to Read team. We hope that the campaign will lead to a speedy ratification of the Marrakesh Treaty by Nepal, so that the Treaty enters into force soon.
"Different countries, similar problems"
The session on Open Educational Resources (OERs) attracted much interest as participants learnt about the introduction of the OER concept in Kyrgyzstan - designed to reduce costs and improve access to school textbooks, and how Open Learning Nepal is developing educational content using low power offline servers for children attending public schools in rural areas who do not have access to learning materials beyond the regular text books.
Libraries participating in policy discussions
Devastating earthquakes in Nepal in 2015 resulted in the destruction of library buildings, the loss of historic manuscripts, ancient texts and other materials important to the history and culture of Nepal. The seminar provided a timely opportunity for the library community to consider, together with national policy makers, the role of copyright law in safeguarding long-term access to cultural heritage, as well as the importance of library participation in informing future policy debates.
Public lecture
In addition, Prof Crews held a public lecture, International Copyright and Domestic Exceptions: WIPO, Treaties, and the Politics of Libraries' hosted by the Social Science Baha. The  provides a forum for local and visiting scholars to present their work and interact with the larger public in an open lecture format. A recording of the lecture is available online.
EIFL would like to express our sincere thanks to the seminar speakers - Kenneth D. Crews (US), Aisulu Chubarova (Kyrgyzstan), G.R. Raghavender and Santosh Kumar Rungta (India), Babu Ram Gautam, Birendra Raj Pokharel and Rabi Karmacharya from Nepal.
We also wish to thank J.B. Biswokarma, UNESCO Office in Kathmandu, Hari Sharma, Alliance for Social Dialogue and Janardhan Dhungana, NeLIC Chairperson for their opening remarks that got the seminar off to a good start.
The local organizer was Jagadish Aryal, EIFL Country Coordinator in Nepal, supported by his colleagues at the Social Science Baha.
The seminar was generously supported by the UNESCO Participation Programme, Soros Foundation Kyrgyzstan, and the Nepal Library and Information Consortium (NeLIC).
The seminar programme is available here. Seminar photos can be viewed here.
Kathmandu Post, Oct 18, 2015 Right to Read by Pratyush Nath Upreti and Asmita Dhital