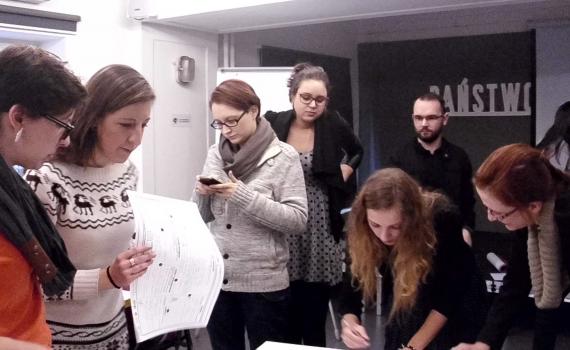 This week is international Open Access (OA) Week and its theme – "Generation Open" – highlights the importance of students and early career researchers as advocates for change in the short-term, through institutional and governmental policy, and as the future of the Academy upon whom the ultimate success of the OA movement depends.
Centrum Cyfrowe shares the results of an EIFL-funded project "Students for OA in Poland" implemented in 2013-2014. This project consisted of a series of workshops and a promotional campaign focused on the student community – representatives of students councils, journalists from student media, student organizations working in the field of law and young researchers (PhD candidates). The goal was to build an internal capacity of student organizations and connect them with OA advocates in Poland.
The project was implemented by Centrum Cyfrowe, Fundacja Projekt: Polska in partnership with the following organizations: The Citizens of Science, University of Warsaw Library, Polish Culture Institute at Warsaw University; media partners: Tytul Ujednolicony and (bibliosfera.net) Bibliosfera.net; and students organizations: Opener Initiative, Student Scientific Group of Intellectual Property at the University of Warsaw, (libertasetlex.wpia.uw.edu.pl) Libertas et Lex Scientific Group and Scientific Group of Library Science Nicolaus Copernicus University in Torun.
Key achievements and impact
In collaboration with leading Polish OA advocates a website Free the Science (UwolnijNauke.pl) was launched, which is a knowledge base on OA for students, librarians, researchers and publishers. Section dedicated to students is based on materials created within the project. OA campaign materials were widely promoted through traditional and social media channels (especially those targeted at the student community).
Over 50 graduate and undergraduate students – representatives of student leadership organizations and scientific groups – from universities all over the country took part in series of workshops. We built a community of the most active students who drive the bottom-up decision-making processes at their universities. And it was the first OA project targeting students in Poland.
To celebrate OA Week 2013, OA monographs platform Open Science Library (Biblioteka Otwartej Nauki) was launched, which provides tools and a platform for publishing OA monographs. The platform currently has 282 OA scholarly monographs and has been co-funded by the National Audiovisual Institute and the Ministry of Culture and National Heritage of the Republic of Poland.
Opener Initiative at Warsaw University was established as a result of workshops. It is a scientific group promoting OA among students and researchers at the Institute of Applied Social Sciences at Warsaw University.
With the students' support a toolkit about the basics of OA in Polish has been created. It is a collection which includes the following: a presentation on the most important issues of OA, a short animation movie, a brochure, posters, bookmarks and social media posters. All the materials are available under Creative Commons Attribution license, so that everyone can share and remix them to explain why OA is so essential for everyone. The toolkit is available on OA advocacy website Free the Science (UwolnijNauke.pl) and was downloaded over 2000 times since the launch of a website.
The project was short-listed to the final rounds of World Summit Youth Award and European Youth Award – an annual competitions for outstanding digital and social innovating solutions.
The voice of students became more visible in the debate on scientific communication in Poland. The project has successfully engaged undergraduate students and young researchers to collaborate with other students and academic librarians.
Watch animation: Open Access. Why Open Science? in English and in Polish (developed within the project).
"At our faculty researchers publish a number of publications. But we do not have access to them. Sometimes it is even hard to find out that they actually exist. The same thing happens with the scientific works written by students. Open access is not only about increasing citation, which refers to professors and researchers. Through our actions we show a variety of practical benefits of open access, both for students and researchers. Because open access is our common cause." – Ewa Majdecka, student, Opener Initiative, Institute of Applied Social Sciences at Warsaw University
"In Poland, students get access to the results of research mainly through unauthorized reproduction: scanning and copying. Still only small part of educational materials is available online. Bottom-up initiatives based on the open access idea such as the Open Science Library replace this model by providing access, but with the consent and on rules defined by the authors. Our experience shows that scientists are willing to share their knowledge, you only need to create favorable conditions in order to make it more visible." – Klaudia Grabowska, project coordinator, Open Science Library
"Implementation of open access in Poland is necessary not only to adapt Polish learning system to European standards. It is primarily an opportunity to increase innovation flowing from the free exchange of knowledge. And the possibility of reducing the cost of studying and research." – Alek Tarkowski, Centrum Cyfrowe Projekt: Polska Foundation, Creative Commons Poland
Read the case study written by the project manager Katarzyna Rybicka [PDF].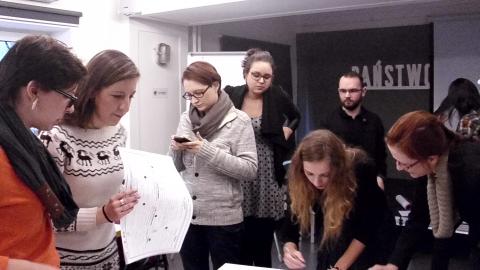 This is the second case study highlighting the results of EIFL-funded national and institutional OA advocacy campaigns to reach out to research communities in Africa, Asia, and Europe in 2013-2014. See our first case study: Tartu University supports OA and open data sharing. These case studies illustrate activities, advocacy strategies, successes and lessons learnt, thus libraries everywhere can benefit. Stay tuned for other case studies and news.
The EIFL-OA Programme is supported by the Information Programme, Open Society Foundations.