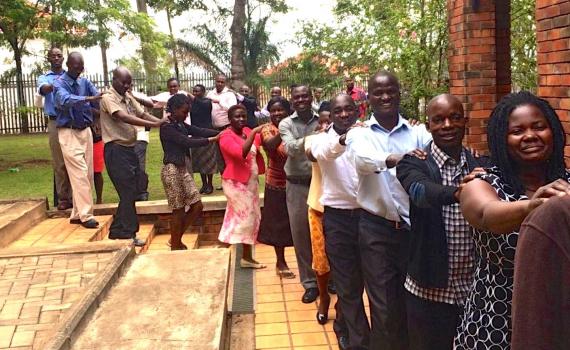 EIFL welcomes the news that the Uganda Communications Commission (UCC) is to equip 13 public libraries with computers and the internet by the middle of June 2019. All libraries to receive the technology serve communities that have little or no access to computers and the internet.
The allocation is the outcome of a successful proposal which the National Library of Uganda (NLU) submitted to UCC with support from EIFL. The equipment will enable the libraries to provide free access to computers and the internet in their communities, to train community members to use digital technology, and to expand their information services.
Each library will receive 10 computers, wireless internet, a printer, a scanner and a photocopier from the UCC. Three public libraries (Hoima, Pallisa and Nakaseke public libraries) have already received and are installing their equipment. NLU has begun identifying the remaining 10 libraries.
"We at NLU are delighted with this partnership with EIFL and UCC that has resulted in this tremendous achievement," said Adonia Katungisa, Director of NLU. "This will go a long way in ensuring that our people get access to current and reliable information to facilitate their personal development, and to contribute to the national, regional and international development agendas."
UCC will be funding the internet connectiona for one year. After UCC support comes to an end, NLU is planning to bring on board the parastatal agency NITA-Uganda (National Information Technology Authority-Uganda) to see that the 13 libraries will continue to have internet connections, Katungisa added.
'librarians are ready to embrace technology'
"We are really excited about this news," said EIFL Public Library Innovation Programme (EIFL-PLIP) Manager, Ramune Petuchovaite. "EIFL has been working with public and community libraries in Uganda to foster development of innovative public library services that use digital technology since 2010. At that time, very few public libraries had computers or internet connections.
EIFL initiated two open calls for grant applications (in 2009 and 2011) for public libraries to initiate and implement innovative projects. Through these calls, we identified seven public and community library projects in Uganda, involving 17 libraries, to receive grants to initiate technology-based services, focused on community needs. Based on the impact of these services, and evidence of increased numbers of people coming to libraries, in 2013 EIFL and NLU approached UCC to discuss roll-out of computers and the internet to all 32 public libraries in Uganda.
To strengthen librarians' confidence in use of technology, in 2014/15 we initiated a training programme in collaboration with NLU and Mandeleo Foundation. The training involved 24 librarians from 22 public and community libraries that already had, or were about to receive, computers and the internet.
"Librarians are ready to embrace technology and we look forward to expanding our support for capacity building of public libraries in Uganda," said Petuchovaite.
Read more