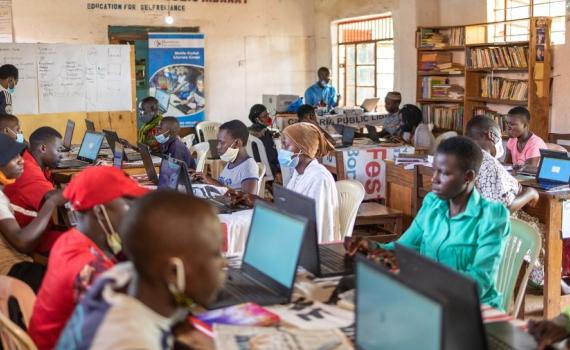 Posted: November 16, 2021
Ugandan public libraries, staffed by public librarians with training skills, are becoming the go-to places for people who want to learn digital skills. The libraries are winning recognition, attracting trainees from all walks of life, and they are receiving new donations of computers, internet connections and data packages.
EIFL has been partnering with the National Library of Uganda (NLU), to build the capacity of public librarians in Uganda since 2014, including strengthening training skills of NLU staff responsible for public and community library development. 
Most recently, earlier this year, we started a new project, 'Digital skills and inclusion through libraries in Uganda'. The project aims to build the capacity of 25 libraries to offer digital skills training to women and unemployed youth and to connect them to free online learning opportunities. (The project is funded by the Wehubit programme implemented by the Belgian development agency, Enabel.)
The libraries have been marketing ICT training and inviting community members and groups to come to their local library to learn digital skills. As news about the training spread, libraries have reported being asked to provide digital skills training to local government officials, police officers, teachers, doctors and nurses. The training has also attracted people in business, early school leavers and people living with disabilities. 
At Bugiri Public Library, in Uganda's Eastern Region, Librarian Mathew Olowo reports that the municipal and district authorities have embraced the training. "The fact that our local authorities value the training programme in the library so highly influences the community to see it as a valuable activity that can help them in future. The leaders do mobilization in various communities urging people to take part in the training; parents also appreciate the services offered, and there is a lot of excitement in our community," he said.
More equipment for digital inclusion
EIFL's and NLU's joint advocacy efforts with the Uganda Communications Commission (UCC), the government agency responsible for implementing the national ICT strategy, are delivering great results. This year, the UCC installed equipment - a package including 10 computers, wireless internet, a printer, a scanner and a photocopier – in four  more public and community libraries, bringing the total number of libraries that have received equipment through the UCC to 17: Arua, Bugiri, Hoima, Jinja, Kabarole, Kampala (Reference Department of NLU), Mbarara, Mitooma, Moyo, Nakaseke, Nebbi, Paidah, Pallisa, Soroti and Tororo public libraries, and Bundibugyo and Bunyaruguru community libraries.
Further installations by the UCC are expected by the end of the 2021/22 budget year. 
In November this year we were delighted to hear from NLU that Absa Bank Uganda has donated 50 computers to be shared among 10 public libraries with each getting five computers. The aim of the NLU-Absa Bank Uganda partnership is to increase opportunities for young people affected by school closures during the COVID-19 pandemic to study online and to learn technology skills. 
The telecommunications company Airtel Uganda has joined the new NLU-Absa Bank Uganda partnership, and will provide free data for young people's learning. Airtel Uganda will also build an online platform with educational content for students on the donated computers. This builds on Airtel Uganda's previous initiative, in 2019, in which they provided free unlimited 4G wifi to 19 public libraries serving communities across the country.
"We have come a long way in building ICT capacities of public libraries and connecting communities in Uganda, and we have a lot to celebrate. We are delighted and cannot underestimate the good partnerships and big contribution of UCC and our development partners (particularly EIFL) without which we would not have achieved this level of ICT. These interventions have raised the profile of public libraries, and we are recognized as important partners in achieving the national and international development goal of universal access to information and ICT. Our continued partnership with Airtel Uganda is playing a big role in helping us achieve our goals of bringing marginalized and vulnerable people online," said Adonia Katungisa, Director of NLU.