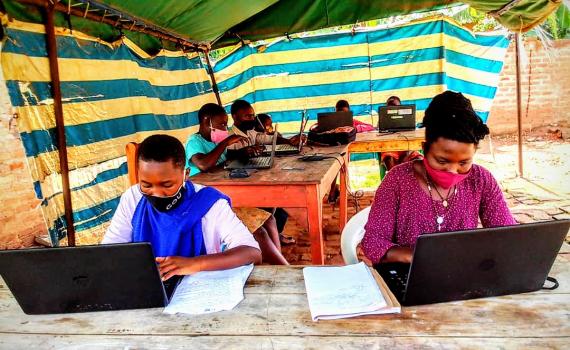 Thank you to everyone who donated to support three community libraries in Uganda to provide women and youth with computer and internet training until the end of 2022. We raised US$1,330, plus US$445 matching funding from GlobalGiving as part of their 5-day Little by Little crowdfunding campaign.
During the COVID-19 pandemic libraries' finances suffered, and they were unable to afford internet connections. Our campaign raised funds for three libraries:  Uganda Development Services Community Library (Eastern Uganda), Mummy Foundation Community Library (Central Uganda) and Nyarushanje Community Library and Empowerment Centre (Western Uganda). 
Your donations will provide each library with a 4G Wifi Pocket Router and monthly data packages. Librarians will be able to continue enrolling women and youth for ICT training, confident in the knowledge that they will be able to complete their training programmes.
We are continuing to fundraise through GlobalGiving, to resource more public and community libraries that are participating in our project, 'Digital skills to empower women & youth in Uganda'.