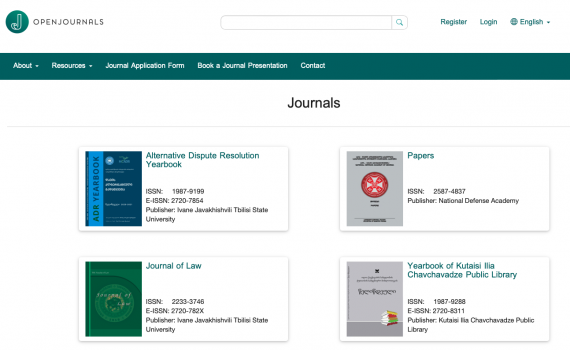 Openjournals.ge is an open access multidisciplinary publishing platform for Georgian academic journals run by EIFL's partner in Georgia, the Georgian Integrated Library Information System Consortium (GILISC), and 'Ivane Javakhishvili' Tbilisi State University (TSU) National Science Library of Georgia. 
With EIFL's support, GILISC - 
Added 30 new open access journals, with current issues from 20 institutions to openjournals.ge;
Conducted seven training sessions and a workshop for journal editors and managers, which were very well attended; 
Redesigned the openjournals.ge platform, which is based on Open Journal Systems (OJS), adding new functionalities for journals and readers - customizable journal pages, a navigation menu, resources for authors and editors; 
Created resources for authors, journal editors and managers in Georgian covering journal indexing, tools for researchers, and other useful topics related to publishing in open access.
With 37 participating institutions, openjournals.ge is the largest publishing platform for open access journals in Georgia. The platform's shared infrastructure brings efficiency and saves publishing costs in addition to increasing visibility and accessibility of Georgian science. 
Openjournals.ge is part of a larger GILISC open access infrastructure that also includes openscience.ge, a digital repository of academic works by Georgian scientists, and openlibrary.ge, a digital repository of non-scientific works. 
Read more about EIFL's work in Georgia.