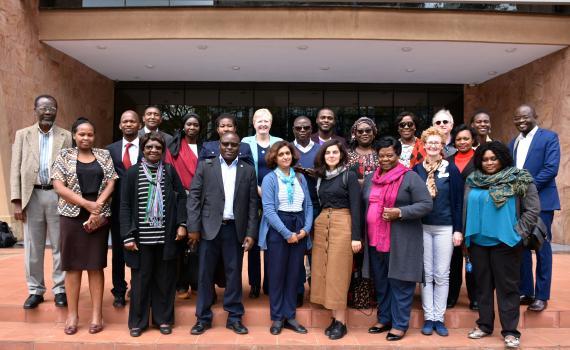 On 12-13 June 2019, heads of copyright offices from more than 40 African states met in Nairobi, Kenya, to discuss copyright limitations and exceptions for libraries, archives, and education in the African region.
The African regional seminar was jointly organized by the World Intellectual Property Organization (WIPO) and the Kenya Copyright Board (KECOBO). The objective of the seminar was to analyze the situation of libraries, archives and educational institutions, and copyright limitations and exceptions in WIPO member states in Africa, and to identify areas for action.
The clear consensus that emerged from the two-day seminar was a recognition that copyright exceptions in Africa are wholly inadequate, especially for online uses, and that there is a real need for reform.
An unrealistic copyright system harms access to knowledge
The opening address by Dr Amina Mohamed, Cabinet Secretary at the Ministry of Sports, Culture and Heritage in Kenya, captured the context for the seminar in three key points: statutory limitations and exceptions are critical for a balanced copyright system; while new technologies challenge the boundaries of traditional exceptions, maintaining an unrealistic copyright system has far-reaching adverse implications for access to knowledge; putting in place an appropriate copyright environment is an essential precondition for a well-functioning education (and knowledge) ecosystem.
Copyright exceptions in Africa - a continent falling behind
The address was followed by presentations from the authors of the WIPO studies on libraries, archives, museums and education, who set the scene by focussing on the situation of copyright laws in Africa. 
The presentation on the library sector by Professor Kenneth Crews showed a continent falling behind the rest of the world in terms of library provisions in copyright laws, especially for uses of digital material. Out of 53 African countries surveyed, 13 have no exception for libraries, while libraries in 10 countries have to make do with a general exception, that is an exception that does not specifically set out  specialized library activities. The most common specialized exceptions are for preservation (26 countries) and research and study (25 countries). Numbers of countries that have exceptions for other types of uses drop off dramatically – for example, inter-library loan (one country) and document delivery (one country). No countries permit cross-border exchange. [See also our infographic, Copyright exceptions and limitations affecting libraries in 53 countries in Africa.]
Priority areas for action
After digesting the data, member states formed three working groups (one French and two English-speaking) that analyzed the situation for each of the sectors in detail, with support from the WIPO experts and observers (including libraries). 
In the report-back session to plenary, common themes quickly emerged from the working groups. Member states agreed that legislation in Africa is lagging behind, and that exceptions need to be strengthened to achieve a proper balance in the copyright system, especially for digital technologies. 
In the library sector, topics highlighted for priority attention included preservation (to safeguard against fire and other disasters that can happen at any time), digitization (to encourage use of certain indigenous material much sought after by local researchers), online access and uses (to meet expectations of the digital native generation), cross-border uses (to facilitate transfer of knowledge, as well as regional and international unity).
To address the issues, member states suggested a number of options including the need for a new legal framework, supranational measures to facilitate cross-border exchange, and extension of provisions in the Marrakesh Treaty for persons with print disabilities to other sectors, such as education. They also called for well-framed exceptions that promote access while protecting authors, and guidance and direction from WIPO in achieving them. 
The issues and options discussed in Nairobi will be taken forward to an international WIPO conference on exceptions and limitations in October 2019 in Geneva, together with the outcomes of seminars from two other regions (Asia-Pacific and Latin America and the Carribbean).
Participation by libraries
EIFL, and representatives from other library and archive groups, participated in the working groups as observers, with brief opportunities to share local experience and to assist with practical questions such as the use of technology by libraries in Africa, the cost of online resources from the global north, and experiences with licensing. In contrast to the first seminar in Asia-Pacific, however, discussion of international solutions was not encouraged (and in one working group, it was expressly not allowed by the chair).

In addition, a two-day meeting of heads of African copyright offices that took place immediately before the WIPO Africa regional seminar on limitations and exceptions included topics of great importance to libraries, such as copyright in the digital age and current topics at SCCR. But libraries were not invited to participate in panel discussions, although we could have made valuable contributions to the debates. 
We hope that similar opportunities at the upcoming regional seminar for Latin America and the Caribbean, in Santo Domingo in July, won't be missed, and that libraries will be allowed to play a full and equal part in all relevant meetings and discussions.
Background
EIFL was represented in Nairobi with a five-strong team: Teresa Hackett, EIFL Copyright and Libraries Programme Manager, Japhet Otike (Kenya), Awa Diouf Cissé (Senegal), Kathy Matsika (Zimbabwe), and Dick Kawooya (Uganda/USA). EIFL cooperated closely with our library partners at IFLA (the International Federation of Library Associations and Institutions), AfLIA (the African Library and Information Associations and Institutions), and KLISC (the Kenya Library and Information Consortium). We would like to thank the Kenya National Library for kindly hosting a joint meeting of civil society groups from libraries, archives and education.
The Regional Seminars are part of the WIPO Action Plan on Limitations and Exceptions. The first seminar for the Asia-Pacific region took place on 29-30 April 2019 (read IFLA's report here) and the third seminar for Latin America and the Caribbean will take place on 4-5 July 2019. Results of all three regional events will be presented and discussed at an international WIPO conference on exceptions and limitations in October 2019.
The WIPO Action Plan was adopted to take forward the 2012 mandate from the WIPO General Assembly 'to continue discussion to work towards an appropriate international legal instrument or instruments (whether model law, joint recommendation, treaty and/or other forms)' on limitations and exceptions for libraries and archives.
Libraries rely on exceptions to allow everyday uses of copyright-protected materials, for example, to provide a researcher with a copy of a journal article, to make an accessible format copy for a blind student, or to make a preservation copy. However, too many countries have no provisions allowing libraries to carry out even basic activities, and where they do exist, they are often not adapted for the digital age and they do not permit cross-border cooperation. 
That is why we are advocating for international action at WIPO so that libraries everywhere benefit from robust exceptions to properly carry out their missions, and that no country or region is left behind in the global digital age.
Find out more​