University of Mandalay and University of Yangon, this week launched institutional open access repositories, opening up their research to the world.
The repositories, which were set up with support from EIFL through the EIFL eLibrary Myanmar project, include  peer-reviewed journal articles, research papers, and papers from selected international conferences.
At the time of the launch, University of Mandalay Open Access Repository (UMOAR - umoar.mu.edu.mm) featured 163 authors, and 134 publications deposited covering all departments at the university. The University of Yangon Repository(UYR - /uyr.uy.edu.mm) included 144 publications by 342 authors from various departments, with the departments of physics and chemistry taking the lead.
Launch ceremonies at the University of Mandalay on 8 May, and the University of Yangon on 11 May, were attended by university rectors and pro-rectors, faculty members, researchers and librarians. EIFL Open Access Programme manager Iryna Kuchma attended both launches on behalf of EIFL.
Addressing the launch of UMOAR, University Rector Professor Dr Thida Win there was growing evidence to show that many countries were benefiting because of open access.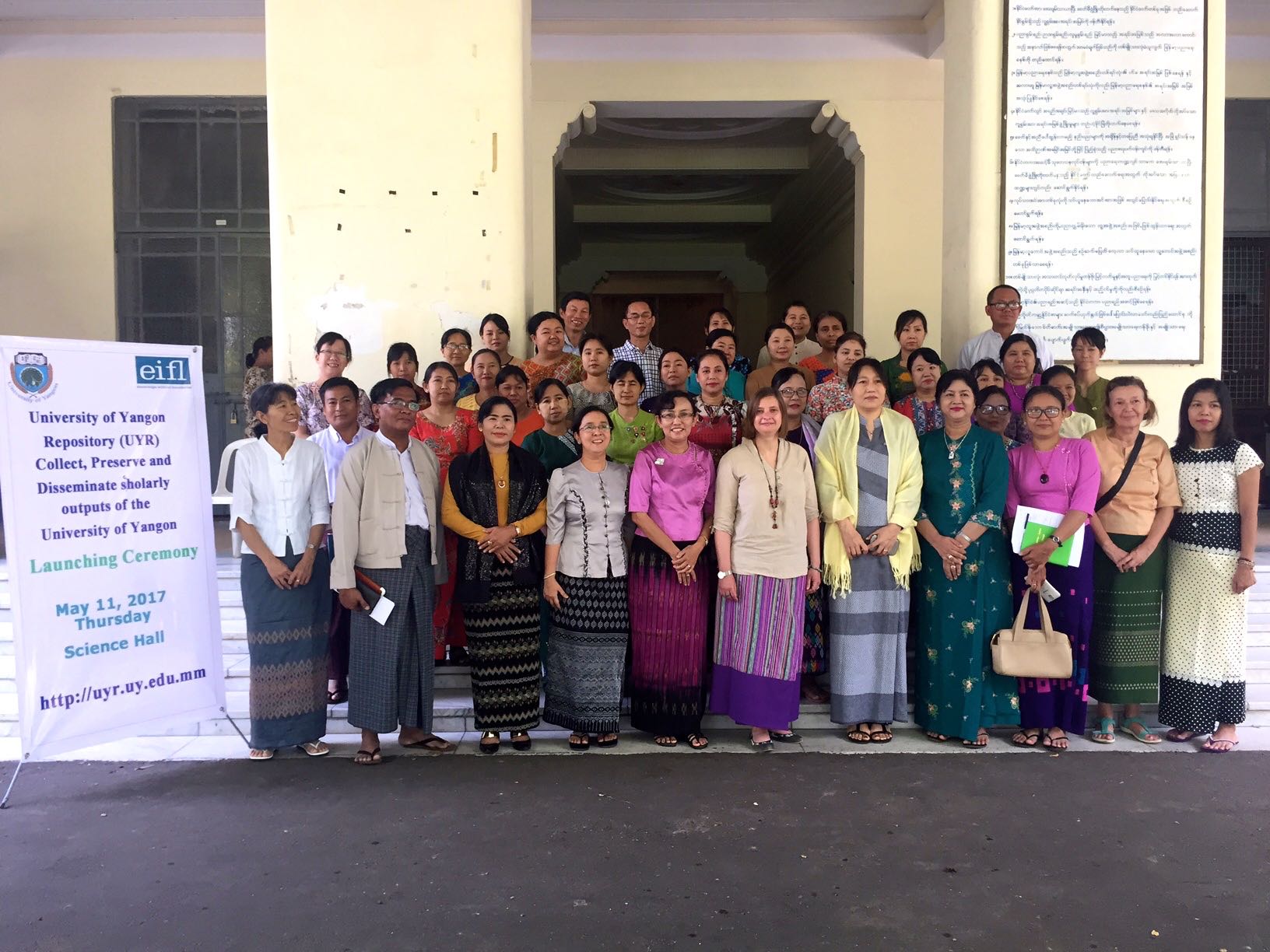 "Now we have successfully set up this repository it is important to keep it alive by depositing research publications regularly. I would like to request our faculty members to use this newly-established repository for your research works and to collaborate more with the international academic community."
At the UYR launch, University of Yangon Rector Dr Pho Kaung urged University of Yangon scholars to use the repository to promote the university and their work: "As you all know, we are trying to promote University of Yangon to the internationally recognized level. Institutional repositories have become an important asset of a university.  This asset reflects the importance and status of a university's research and teaching quality."
Kuchma congratulated the University of Mandalay and University of Yangon on the launches of their  repositories, and on development of repository policies. After the launches, she met with faculty members and librarians to discuss content development strategies to grow the repositories.
FIND OUT MORE
Read more about EIFL's support for open access in Myanmar.