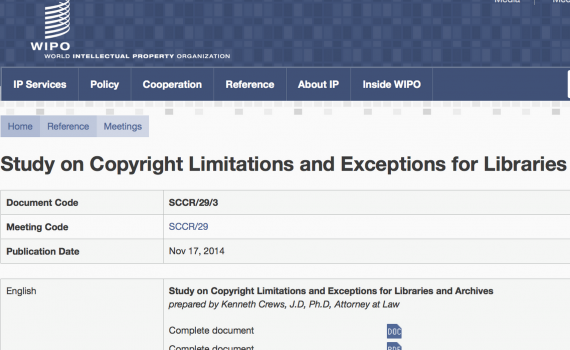 The newly updated study on copyright limitations and exceptions for libraries and archives, commissioned by the World Intellectual Property Organization (WIPO), features information on copyright laws from 16 EIFL partner countries, among countries from other regions around the world.
The updated study includes 37 laws that were not available for analysis at the time of the 2008 study - including EIFL partner countries Laos, the Maldives, Myanmar and Uganda. It also includes laws where library provisions have been revised in some way since 2008 - that is in Belarus, Bosnia & Herzegovina, Kyrgyzstan, Lithuania, Macedonia, Mali, Moldova, Mongolia, Russia and Serbia, among countries from other regions. In addition, the study notes revisions to the laws of Latvia (2007) and Senegal (2008) since enactment of the statutes used in the 2008 study. The extent of the revisions, and the benefits they bring to library services, varies from country to country. Furthermore, five EIFL partner countries have no exception for libraries in the national copyright law, according to the updated report.
The report author, Kenneth Crews, J.D, Ph.D, will present the findings at WIPO's Standing Committee on Copyright and Related Rights (SCCR/29) that takes place in Geneva from 8-12 December 2014.
EIFL is represented at SCCR/29 by Teresa Hackett, EIFL-IP Programme Manager, and EIFL copyright librarians, Barbara Szczepanska from Poland, and Hasmik Galystan from Armenia who will explain to country delegates why libraries need modern copyright laws that are consistent across borders to enable modern information services.
The combined 2008 and 2014 studies means that for the first time we have available an overview of library provisions in copyright laws from 186 countries around the world, a great resource for analysis and advocacy. We look forward to delving into the study in more detail in 2015!
Click here to read the full updated study (2014) in English and summaries in French, Spanish, Arabic, Chinese and Russian.
Click here to read the 2008 study.