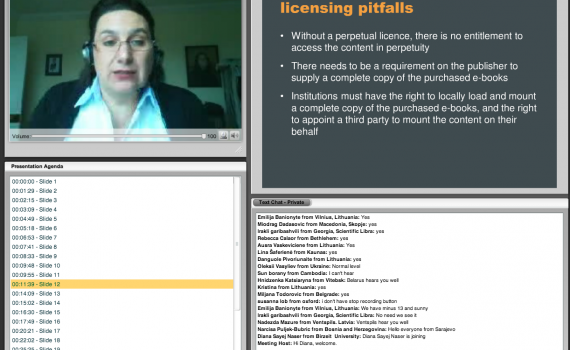 From Cambodia to Uganda, the last in a series of three webinars on the EIFL model licences attracted 49 participants from 15 countries in Africa, Asia, Europe and the Middle East.
The focus of this webinar was on the new EIFL Model Licence for E-book Purchases.
Emanuella Giavarra, EIFL's legal adviser and an expert in e-resource licensing, covered the following topics:
Why EIFL has model licences, and how they benefit libraries and library users
Why we have introduced a new EIFL Model Licence for E-book Purchases
An outline of the similarities and differences between the EIFL Model Licence for E-book Purchases and other EIFL model licences
A reminder about opportunities for local adaptation of the EIFL model licences and use by library consortia in their own negotiations.
Emanuella also answered questions from participants during a Q&A session which followed her presentation.
We were delighted to welcome participants from the following countries: Belarus, Bosnia and Herzegovina, Cambodia, Egypt, Ethiopia, Georgia, Kenya, Latvia, Lithuania, Macedonia, Moldova, Palestine, Serbia, Uganda and Ukraine.
View the recording
View the EIFL Model Licences
Did you miss the first and second webinars in the series?  
Webinar 1: Introduction to the EIFL Model Licence: Information about the webinar | instantpresenter Recording of the session
Webinar 2: Recent updates to the EIFL Model Licences and opportunities for local adaptation - Information about the webinar |&nbspinstantpresenter Recording of the session