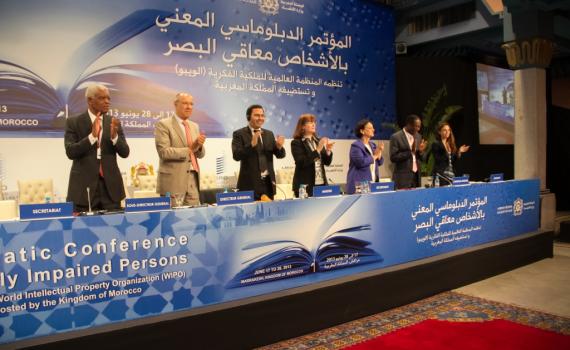 Posted: September 12, 2013
From June 17 to 28, 2013, WIPO Member States met in Marrakesh, Morocco for a Diplomatic Conference to conclude a Treaty to facilitate Access to Published Works by Visually Impaired Persons and Persons with Print Disabilities.
EIFL followed the diplomatic conference throughout the whole two weeks. Teresa Hackett, EIFL-IP Programme Manager attended in person during the second week.
EIFL congratulates WIPO Member States and the World Blind Union on the adoption of a treaty!
Read the text of the treaty adopted in Marrakesh.
20.9.2013 IP Watch. Negotiators, Stakeholders Tell Tale Of WIPO Marrakesh Treaty Negotiation, Look To Implementation.
12.9.2013 The 2013 Marrakesh Treaty: Providing Access to Copyrighted Works for the Blind and Print Disabled, American University Washington College of Law. Watch the webcast of the first public forum on the new treaty.
25.6.2013 Treaty agreement in Marrakesh - watch the first reaction to the news!
27.6.2013 EIFL reacts to the adoption of a treaty.
28.6.2013 IP Watch - In Aftermath Of Treaty Adoption, Civil Society, Industry Reflect On Outcome
28.6.2013 Un traité "historique" signé sur l'accès des aveugles aux livres
1.07.2013 IP Watch - Over 50 Countries Sign Marrakesh Treaty On Copyright Exceptions And Limitations For The Blind
3.07.2013 Marcus Low - Dancing and tears greet book treaty for blind
Follow on Twitter: #VIPDC and #Books4BlindTreaty
Why a WIPO Treaty for Persons with Print Disabilities can change lives
EIFL statements and Interventions
Joint library statement supported by 12 library organizations on a Treaty for Persons with Print Disabilities (11.6.2013)
Opening statement by EIFL, jointly with IFLA. Read the opening statement or watch the opening statement online (19.6.2013)
"The start of a new era": read the EIFL closing statement, or watch the closing statement online (27.6.2013)
EIFL looks forward to implementation of the Marrakesh Treaty (3.7.2013)