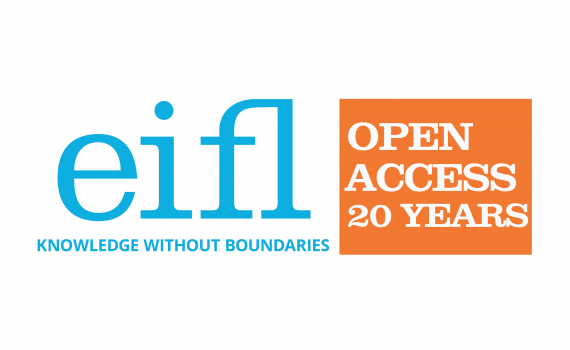 Posted by Guest Blogger, July 25, 2023
Anna Chulyan, Director of the National Library of Armenia, and EIFL Country Coordinator, writes about progress in open access and open science in Armenia.
It was not long ago that the concept of 'open access' was unheard of in Armenia, even among many academics, librarians and other information professionals. Before major change in open access could take place, an understanding of the evolution, meaning, and importance of the practice had to be taught.
EIFL began working in Armenia in 1999 by supporting the creation of the Digital Library Association of Armenia (DLAA), formerly known as the Electronic Libraries Consortium of Armenia (eLCA). Through this consortium, over 20 member institutes (public and private universities and research centers) have the opportunity to share knowledge and best practices. 
The Armenian Journal of Mathematics and the Armenian Journal of Physics were launched as open access journals in 2007 by the National Academy of Sciences, and since then EIFL has taken an active role in supporting awareness-raising and advocacy in Armenia through workshops and initiatives. 
Raising awareness across the country
Still, the issue of lack of awareness of open access among academics, especially outside of the capital city of Yerevan, existed. To counter this, EIFL helped support four DLAA projects aiming to engage members of Armenia's academic community in open access practices and to create a national open access repository for electronic theses and dissertations.  
Four universities - Armenian State University of Economics, Brusov State University, Yerevan State Medical University and Yerevan State University - adopted institutional open access policies, Regulations of Repositories and Open Science Strategies. They also set up institutional repositories within the Erasmus+ MINERVA project, 'Strengthening Research Management and Open Science Capacities of HEIs in Moldova and Armenia'. 
Thanks to cooperation with EIFL, Armenian researchers can take advantage of offers of free or discounted Article Processing Charges (fees paid to publishers for publishing journal articles in open access) when publishing in 1,456 international scientific journals, which greatly helps sharing scholarly output.
"Over the last 20 years, with the help and support of EIFL, there has been a remarkable shift in open access knowledge and practice in Armenia. While there is still a lot of work to do, thanks to the support of EIFL, the country now has a solid foundation of open access infrastructure and knowledgeable professionals to take the work forward." - Anna Chulyan.
Librarians have taken the lead
Librarians in Armenia have very much taken the lead in the effort to spread awareness of the importance of open access, celebrating Open Access Week and working directly with faculty, researchers and students to spread knowledge of the open access movement. 
Additionally, many librarians have organized open access training for other librarians around the country in an effort to spread awareness and increase the use of open access scholarly resources. For example, academic librarians have put significant effort into promoting the implementation of the DSpace platform for the creation of institutional repositories. 
In 2022, the National Library of Armenia received an EIFL grant to support installation of DSpace 7. The NLA, in collaboration with Brusov State University, held a two-day workshop on using the DSpace 7 series within the framework of the MINERVA project. In total, 24 librarians from the consortium partner institutes attended the training, and expressed interest in implementing or further implementing the platform within their institutions. With support from EIFL, the NLA has improved access to its digital materials - open access Armenian theses and dissertations, books and the Bulletin of Armenian Libraries - through the creation of a new repository.
Through the DLAA's Facebook page and website, the Association has been able to maintain open communication with its members and share open access news from Armenia and abroad. 
More about EIFL's support for open access and open science in Armenia.