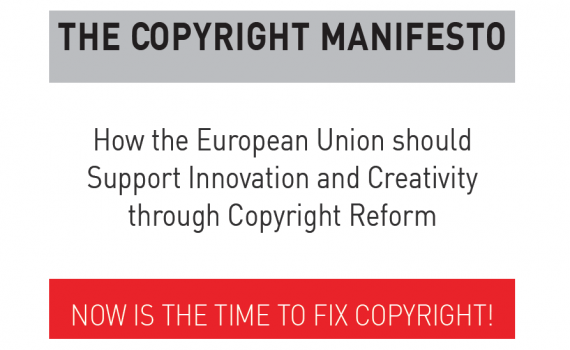 Posted by
Teresa Hackett
, Copyright and Libraries Programme Manager, January 19, 2015
"Copyright divide in numbers", the graph on the first page of the newly launched 'The Copyright Manifesto. How the European Union should Support Innovation and Creativity through Copyright Reform' tells a story. In an illustration of the results of the European Union's (EU) 2014 consultation on copyright, publishers, authors and collective management organizations express strong support for the current system, while end users and institutional users (such as libraries) are strongly in favour of copyright reform. So if copyright is supposed to benefit everyone, the copyright system sure isn't working for everyone.
Launched on 19 January 2015 by Copyright for Creativity (C4C) - a broad coalition of digital rights groups, libraries (including EIFL), research and educational institutions, and technology companies - the Manifesto calls on the EU to modernize copyright rules, create a digital single market across EU borders, reduce the term of copyright protection, and to ensure that implementation and enforcement measures are fair, proportionate and transparent.
EU copyright rules are important. They affect libraries not only in EIFL's EU partner countries (Estonia, Latvia, Lithuania, Poland and Slovenia). They also affect library services in EU candidate and potential candidate countries (Macedonia, Serbia, Albania, Bosnia & Herzegovina, Kosovo), as well as dozens of developing world nations that are impacted by EU law and policy through trade and economic partnership agreements. So the EU influence on copyright laws around the world is strong: a point highlighted recently in the wipo.int/meetings/en/doc_details.jsp?doc_id=290457 WIPO studies on copyright limitations and exceptions for libraries and archives.
This is why the EU should be a global leader when it comes to copyright reform. But right now, it's lagging behind (even opposing international discussion on copyright reform). And the EU copyright directive, first proposed by the European Commission in 1998 looks increasingly last century. Take for example the provision that permits libraries to display certain digitized works only on the library premises. While it was arguably progressive at the time, today it seems a bit, well, silly. (Try explaining to a student why they are not allowed to use their mobile device to access a work needed for their studies).
At the same time, libraries, archives and cultural heritage institutions are limited in their public mission to provide access to and preserve knowledge and culture, as copyright rules or licensing conditions prohibit them from embracing technological evolution.

Copyright for Creativity Copyright Manifesto
It also wasn't the intention of European policy-makers at the time (eblida.org/activities/e-books-in-libraries.html) to prevent libraries today from buying or lending books, preserving journal articles pulled from databases due to plagiarism, or other situations that libraries find themselves in now due to overly restrictive copyright rules. The key objective of the EU copyright directive to provide legal certainty in response to technological change and increased transborder activities is failing.
"Now is the time to fix copyright", the chorus in the C4C Manifesto, is the clear message relayed to the European Commission in almost 6,000 responses from stakeholders to its consultation. Member states, such as Estonia, Ireland, Poland, the UK, have taken the initiative. However to avoid even more confusing and conflicting rules, and to encourage a cohesive environment that's friendly to digital culture, research and innovation, the EU needs to step in.
Some work has been done. Important policy goals have been set by the EU, the eagerly awaited copyright review seems to be taking shape, while the European Parliament steps up its involvement with a presentation on 20 January 2015 to the Legal Affairs Committee of an own-initiative report by MEP Julia Reda.
With political will from the EU, leaders not afraid to embrace change, and a steady eye on the prize 'to reboot Europe's economy', could 2015 be the year of EU copyright reform?
The C4C Manifesto launches in Brussels during the first C4C Annual General Meeting on 20-21 January 2015. EIFL will join other members of the coalition to plan, debate and advocate for the year ahead.
Read more
EIFL's seven point plan to the European Commission
EIFL response to the 2014 European Commission public consultation on the review of the EU copyright rules.
EIFL response to the 2008 European Commission public consultation on copyright in the knowledge economy.