It is exciting to see so many public libraries taking part with other players this week in (getonlineweek.eu) European Get Online Week (23 – 29 March). Just five years ago public library participation would have been rare, because the role of public libraries as providers of skills training for first-time computer users was still not widely recognised.
Get Online Week (GOW) is an annual event that showcases digital training programmes. It includes classes, tutorials, online competitions,  games and webinars from different countries, during which thousands of people improve and test their digital skills. GOW is one of several empowerment campaigns introduced by the European Commission Digital Agenda. Another, similar event, was (events.codeweek.eu) Europe Code Week 2014, targeting youth and focused on developing computer coding skills.
The World Bank, in its ICT policy notes (2012) has highlighted a need for similar efforts in developing countries. The notes acknowledge how digital technology has transformed the job market, bringing new kinds of jobs and entrepreneurship opportunities. To take advantage of these opportunities, people need  access to computers and mobile devices, reliable internet and - above all - skills.
Public libraries have a long tradition of providing learning opportunities, and are well placed to support international and national strategies that aim to prepare communities for a digital future.
I'd like to highlight just two examples to show how relatively small public libraries from Serbia and Poland are contributing to digital literacy, promoting digital inclusion and building skills in their communities.
Robotics classes demonstrate the power of public libraries
In central Serbia, hundreds of children have attended robotics classes and demonstrations organized by Public Library 'Dušan Matić' Ćuprija as part of their Biblioteka++ project. Now the children are using Lego Mindstorms EV3 robotics kits to build robots, and free open source computer programming software to bring the robots to life.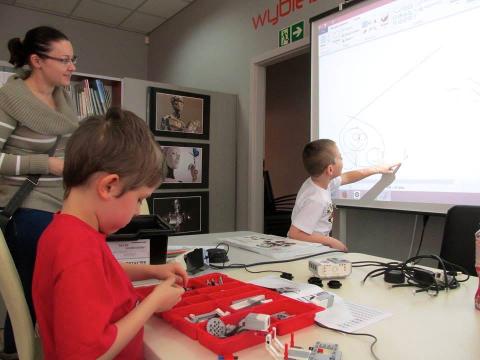 Guided by librarians and teachers, children have made robot animals, people and machines, and are engaging in lively discussion about computer programming on the Biblioteka++ website. The website also includes online tutorials and resources to improve young learners' skills.
To connect the children to the wider world of computer programming, the library organized two events for European Code Week 2014 (October 11 – 17).  The children had a lot of fun, and the library won recognition from the Serbian Ministry of Education, Science and Technological Development. On its website, the Ministry listed Biblioteka++ as one of the top 10 Code Week participants out of 102 entries from Serbia.
Polish public library gets the whole city involved
About 600km to the north, Piekary Slaskie Public Library in Poland involved the whole city in its 'Programming of Curiosity' project.
The project uses the educational technique of 'gamification' (using the methods of games to build skills and confidence) and digital tools to stimulate children's interest in technology. In November 2014, the library opened the project to the community by hosting city-wide Information Technology (IT) Days.
The three IT days were extremely popular, attracting hundreds of people and over 20 mentions in local and national media. Activities included a Web safety conference; a competition for children to test their digital knowledge; a computer game, 'Tourney of Legends', and an outdoor search during which competitors used GPS, an electronic map, cameras and live internet feeds to follow clues and find a prize.
Let's help libraries realize their full potential
Since 2009, public libraries supported by the EIFL Public Library Innovation Programme have built computer skills of thousands of people in Africa, Asia, Europe and Latin America.
There are over 230,000 public libraries in developing and transition countries. A relatively small investment by governments is needed to transform them into centres to support digital learning. I'd like to see that investment happening in developing countries as a part of national sustainable development strategies.