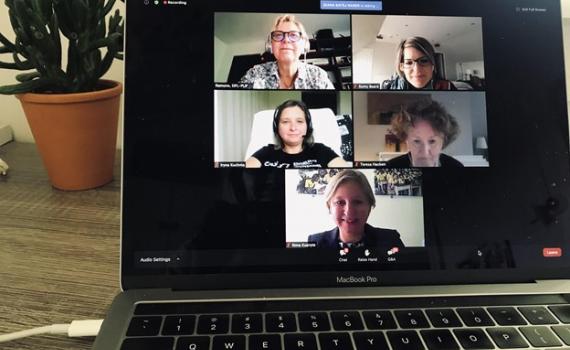 The 2020 EIFL General Assembly (GA) took place online, from 30 September - 1 October. Originally scheduled as an in-person event in Vilnius, Lithuania, the GA was moved online because of the COVID-19 pandemic. This is the first time since 2002, when the first EIFL General Assembly took place, that we have been unable to meet coordinators from our partner countries, and our publisher partners, in person.
The first day of the GA was a public session open to the EIFL community, consortia and publisher partners. The second day was reserved for EIFL coordinators.
30 September: EIFL Programme Updates
Over 200 people registered for this two-hour public session to hear EIFL Programme Managers highlight activities and achievements since the last General Assembly (August 2019). COVID-19 has affected our programmes' plans and activities, and the managers spoke about how their programmes have adapted. They also shared information about ongoing work and future plans. At the end of the presentations, there was a lively Q&A session with participants.
Presentations by EIFL Programe Managers
Watch a full length recording of the presentations on EIFL YouTube (length 1 h 40 min) here, or click on the links below to see a PDF of each presentation, and view each recording separately:
1 October: EIFL Coordinators' meeting
To accommodate different time zones, separate networking sessions took place, exclusively for coordinators from EIFL partner countries. During these sessions, EIFL country coordinators shared experiences of how COVID-19 has affected the work of universities and libraries in their countries, and how libraries have had to adjust their services. 
The impact of COVID-19 on library services
Providing access to textbooks proved challenging in many countries
With the widespread closure of library buildings, staff would, in some cases, gain special access to the library and make arrangements for faculty or students to collect requested textbooks from the library, or from the guard/s at the campus gates. Libraries that could afford them installed self-check-in systems and dropboxes. There were cases where librarians could not enter libraries at all because of government restrictions, and had to work from home. 
Participants reported a chronic lack of availability of academic e-books, especially textbooks in local languages, for which there are no available alternatives. 
The demand for textbooks and other printed material outstripped libraries' ability to satisfy requests. In addition, the number of copies in circulation at any one time was reduced, because of the need to quarantine books before safely recirculating them.
Some libraries provided emergency access by email to book chapters or other study material needed by faculty and students. But over time, even this service became difficult for libraries that did not have sufficient scanning equipment or staff resources to keep up with requests.  
Open Educational Resources (OERs) and other open content
To overcome any uncertainties over copyright issues in meeting demands for printed textbooks, and in the absence of viable electronic alternatives, libraries in several countries are actively looking to OERs to fill the gap. They plan to encourage the adoption of OERs among faculty, and to use the opportunity to educate users on the use of Creative Commons and other open content licences.
Further, as budget cuts due to COVID-19 take hold and libraries struggle to renew licences for commercial e-resources, librarians anticipate a greater reliance on free e-resources provided by publishers, which are limited, and  open access resources in future.
Remote access to licensed e-resources
Libraries that had systems in place to provide off-campus access to licensed journals and databases, promoted the use of these resources. 
However, there were many libraries that could not provide off-campus access to licensed e-resources. Some publishers provided libraries with usernames and passwords for accessing e-resources for a limited period of time, and libraries appreciated this. 
Public health a priority
While some libraries were well equipped with personal protective equipment (PPE - masks, gloves, hand sanitizers, etc.), others reported a shortage of PPE for library staff.
And as lockdowns have eased and university buildings are re-opening under new rules, such as a limit on the number of students in the library at any one time, opening hours in some libraries have increased to accommodate all the students that need to use the library. In one case, opening times were extended to 24 hours, with librarians working round the clock in shifts.
EIFL appreciates the amazing work by librarians in partner countries supporting education and communities in these difficult COVID times.