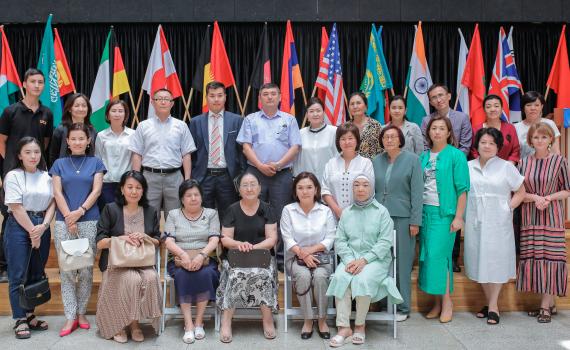 Kyrgyzstan has over 50 higher educational institutions offering post-graduate and specialist degrees. Established since Kyrgyzstan gained independence in 1991, many of these institutions are relatively new. They define their own research programmes, and Web of Science data shows there has been a significant increase in research publications from Kyrgyzstan. However, the visibility of Kyrgyz research remains low.  Researchers tend to publish articles in closed-access journals, and lack the knowledge and skills needed to share, promote and raise visibility of their research output. 
EIFL began working in Kyrgyzstan in 1999. In 2008, working with our national partner, the Kyrgyz Library Information Consortium (KLIC),  we supported the first national open access awareness raising and advocacy workshop in Kyrgyzstan. In 2019 and 2020 EIFL joined Open Access Week celebrations in Kyrgyzstan, raising awareness about open access of librarians, faculty, researchers and students at the American University of Central Asia (AUCA) and other universities, and building the capacity of research staff and librarians to develop training programmes and provide training in open access and open science. 
In 2021, building on the momentum created in previous years, KLIC launched a project to raise awareness about open access at Kyrgyz higher educational institutions and to provide researchers with practical open access skills. Titled 'Building a foundation for Open Access development across universities in Kyrgyzstan', the project was supported by EIFL.
Timeline
2008 - 2022
Activities
Development and dissemination of a handbook on open access in Kyrgyz and Russian 
Developing and providing open access training for university librarians and research officers
Achievements
Establishment of a National Open Access Working Group and a plan to advance open access in Kyrgyzstan. The Open Access Working Group comprises library directors, research officers, and administrators from universities in six regions - Osh State University, Jalal-Abad State University, Batken State University, Issyk-Kul State University, Naryn State University and Talas State University, and the capital city, Bishkek (Arabayev Kyrgyz State University; Karasayev Bishkek State University; AUCA; International Medical University and OSCE Academy).
Development and dissemination of a handbook on open access in Kyrgyzstan. The handbook, in Kyrgyz and Russian, in print and electronic formats, covers the history of open access in Kyrgyzstan, current trends, and offers guidance on applying open access in practice. It is being distributed to all major universities, targeting libraries, research/science departments and doctoral and master's programmes. 
Raised awareness about open access at universities across the country. In June 2022 , 25 representatives from major public universities took part in a two-day workshop on open access at AUCA. 
Next steps
The National Open Access Working Group has identified three priority activities for advancing open access in 2022 - 23:
Training on launching an institutional repository;
An information session on Open Journal Systems (OJS) software for managing and publishing scholarly journals, and 
Information sessions on open access publishing opportunities for authors from Kyrgyzstan.