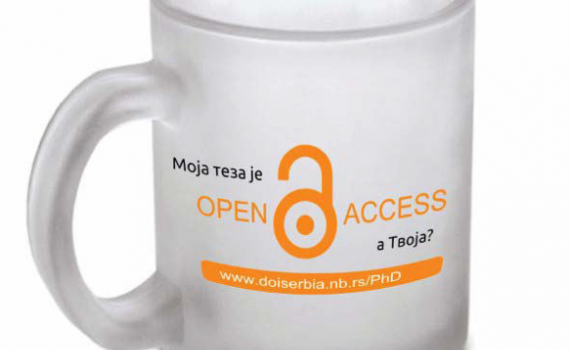 BACKGROUND
In 2005 the Department for Scientific Information at the National Library of Serbia (NLS) began assigning  Digital Object Identifiers (DOIs) to Serbians journal articles, identifying them in the digital environment and making it possible to locate them on the internet.
DOIs are widely used in scientific publishing to cite journal articles. The NLS became an affiliated member of CrossRef, an association of scholarly publishers that develops shared infrastructure to support more effective scholarly communications, as a National DOI agency. In 2015, 29,151 articles from 66 Serbian journals were published with DOIs on the open access (OA) portal: http://www.doiserbia.nb.rs/.
With this positive output, DOI became a magic word in the Serbian research community, and in 2013, EIFL funded a project to assign DOIs to PhD theses. The aim of the project was to increase the number and discoverability of OA theses.
Before the project started, there were four universities in Serbia with institutional repositories for OA theses. In 2012 EIFL provided financial support to the University of Belgrade, one of the largest universities in Southeastern Europe, to boost compliance by professors and students with the university administration's guidelines on use and production of OA research outputs. As a result of the project, more researchers started practising OA in Serbia, but the number of OA theses was still low. (See the project results here.)
OVERVIEW
The National Library of Serbia implemented the EIFL-funded project 'My thesis is in open access, what about yours? DOISerbiaThesis' which had the following goals:
to fill existing University OA repositories with Phd theses;          
to promote OA among young researchers;     
to include Serbian theses in European and worldwide harvesters; and     
to disseminate Serbian theses to much larger audience.
MAIN ACTIVITIES
Hosting a series of meetings for university deans and librarians to discuss copyright issues and OA policies and establish the project workflows;
Producing model documents (deposit agreements) for PhD authors. All mandatory fields of the deposit agreement (e.g. thesis title, author name, date, university, etc.) are extracted from the union catalogue (COBISS) and librarians only need to print the agreements and ask PhD authors to sign them.
Implementing a marketing campaign to promote OA theses among PhD students. As a part of the marketing campaign, tea cups were produced, with the text 'My thesis is in open access, what about yours?'
TIMELINE
June 2013 - February 2014.
ACHIEVEMENTS
A national OA portal of PhD theses and dissertations was launched. By February 2014 it included over 1,000 OA PhD theses easily citable and searchable (with DOIs).     
Serbian theses are searchable on international OA theses portals such as DART Europe, OpenDOAR and OATD.          
Social network thumbnails have been added to each thesis so the altmetrics can be tracked – that cover not just citation counts, but also other aspects of the impact of a work, such as views, downloads, or mentions in social media and news media.     
The Minister of Education, Science and Technological Development (MESTD) suggested amendments to the Law on Higher Education in order to establish a national OA repository of theses.
Over 100 research managers, PhD students and librarians attended five project events and as a result there is a raised awareness about OA and more theses are available in OA.     
The MESTD acknowledged the significance of the project and pledged to support the development of the project.          
Read the case study containing key achievements, strategies, tactics and tools from this EIFL-funded project.
PROGRESS
On 10 September 2014 the National Assembly adopted the law – OA mandate for PhD theses defended in all public and private universities in Serbia. A new OA mandate requires that every University must establish its OA repository, and the National OA PhD repository will be maintained by the Ministry.
The Consortium of all Universities (KONUS) asked the Computer Centre at University of Belgrade for help in establishing repositories at those universities that don't yet have them. There are 16 universities in Serbia with PhD programmes and (in 2014) only five (four state universities and a private university) had repositories. 
NaRDuS - National Repository of Dissertations in Serbia - was launched as a common portal for PhD dissertations and thesis evaluation reports from all Serbian universities (according to the requirements of the amended Law on Higher Education). All universities are required to deposit dissertations and thesis evaluation reports in NaRDus. 
On 14 July 2018 the Serbian Government adopted a national policy mandating open access (OA) to all publications resulting from publicly-funded research in Serbia. The policy, titled the Open Science Platform, was introduced by the MESTD, the main funder for research in Serbia. In addition to mandating OA to MESTD-funded research, the policy states that universities and research institutes should define and adapt their open science institutional policies and infrastructure to comply with the national policy. Compliance should take place within six months of the launch of the policy. [See the policy in Serbian here and in English here.]
Read more
Read about EIFL's support for open access publishing in Serbia.
EIFL also supports OA, open research data and open science in Serbia through the FOSTER (Facilitating Open Science Training for European Research) and OpenAIRE (Open Access Infrastructure for Research in Europe) projects.