Event Date
: 25 Oct 2021 - 31 Oct 2021
Global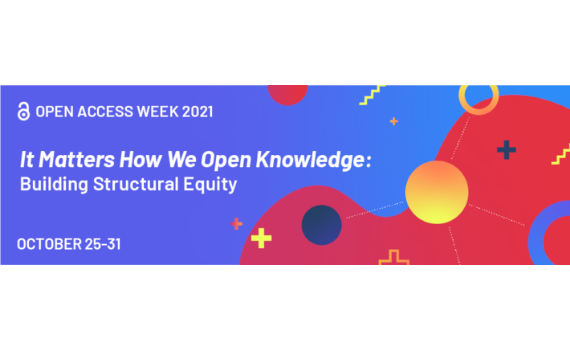 International Open Access Week 2021 (OA Week 2021) takes place from 25 - 31 October, and EIFL will be celebrating with libraries and researchers in our partner countries.
OA Week is an annual, global event established by SPARC to raise awareness about open access and to call for open access to be the norm in scholarship and research. The theme this year is  'It Matters How We Open Knowledge: Building Structural Equity'.  Iryna Kuchma, EIFL Open access Programme Manager, is a member of the Open Access Week Advisory Committee.
The 2021 theme aligns with the draft UNESCO Recommendation on Open Science, which articulates the importance of equity in pursuing a future for scholarship that is open by default. The draft Recommendation is scheduled to be formally adopted by UNESCO Member States in November 2021.
EIFL and members of the EIFL network will participate in the following events - 
25 - 27 October, Online, Asia: The 6th COAR OA 2021 Virtual Meeting, on Innovation, Growth and Sustainability of Open Scholarship in Asia. Free registration.
25 October, Online, International: 3rd Basel Sustainable Publishing Forum | Opening Access. Free registration. 
26 - 27 October, Online, Europe: The New European Research Area – Towards the Responsible Knowledge-Driven Society of the Third Millennium, Slovenian Presidency of the Council of the European Union Conference.
26 October, Online, South Africa: International Open Access Week: North-West University Colloquium. Free registration.
27 October, Online, Ukraine: Open access, open science, open data: Current challenges
28 October, Online, Africa: It Matters How We Open Knowledge: Building Structural Equity - LIBSENSE Open Access Week panel. Free registration.
28 October, Online, Zimbabwe: Open Access and Commercialization of University IP: University of Zimbabwe workshop
28 October, Online, Kenya: Amref Health Africa institutional repository launch.
29 October, Online, Kyrgyzstan: Open Access Week. 
29 October, Online, Kazakhstan: Nazarbayev University Open Access Week webinar series.
We'll be adding new events and opportunities to participate as the information comes in. Watch this space for updates or follow us on social media (Facebook, Twitter - @EIFLnet). 
More about OA Week 2021 and EIFL's involvement in OA Week.