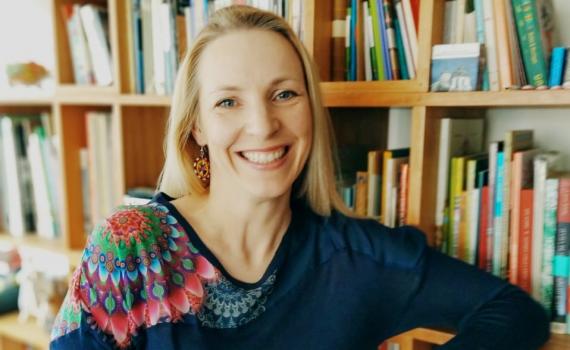 Public Library Innovation Programme Impact Manager
Ugne Lipeikaite oversees impact planning and evaluation for the EIFL Public Library Innovation Programme (EIFL-PLIP). Ugne built the impact evaluation framework and tools that are now being used by EIFL-PLIP grantees. She facilitated the creation and implementation of EIFL's training programmes for public librarians in five African countries, developing librarians' capacity to introduce and implement innovative services that meet community needs, and improving their ICT and ICT training skills. In Uganda, Ugne led and managed the implementing team for the EIFL 'Digital skills and inclusion through libraries in Uganda' project, a country-wide programme to build public libraries' capacity to provide digital skills training for vulnerable women and youth, in addition to developing the impact assessment and evaluation framework for the project.
Before joining EIFL in 2011, Ugne was responsible for impact planning and evaluation of a nation-wide project, 'Libraries for Innovation', a US$36-million project co-funded by the Ministry of Culture of Lithuania and the Bill and Melinda Gates Foundation. The project helped almost 1,300 public libraries in Lithuania to develop public access to computer and internet services.
Ugne's other projects include ICT diffusion and adoption projects for the Open Society Fund-Lithuania and the e-Inclusion project 'Rural Internet Access Points', funded by the European Union Phare Programme.
Ugne has contributed to the design and implementation of major international research projects, among them, the 'Global Impact Study of Public Access to Information & Communication Technologies' (2012); 'Perceptions of Public Libraries in Africa' (2011); 'Advancing Library Visibility in Africa' ( 2018 - ongoing), and the 'Role of Libraries in National Broadband Plans and Policies' (2019 - ongoing).
Ugne served on the Statistics and Evaluation Committee of the International Federation of Library Associations and Institutions (IFLA) from 2011 to 2014. Ugne has published several works (see the full list here).
Ugne holds a Ph.D in Communication and Information from Vilnius University, Lithuania.
Languages: Lithuanian, English, Spanish
More about EIFL's public library capacity building initiatives in Africa