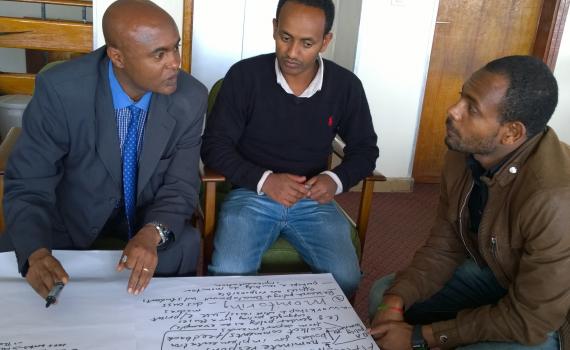 Posted: December 18, 2014
The EIFL Open Access (OA) programme advocates nationally and internationally for the adoption of OA policies and mandates, to ensure that research output is freely and openly available for all.
This year was very successful, with 22 new OA policies being adopted in EIFL partner and project countries.
View the full list below. A complete list of over 70 OA policies in EIFL partner and project countries is available here.
OA policies adopted In EIFL partner and project countries IN 2014 
Africa
Algeria

: Université M'hamed Bougara – Boumerdes

Kenya

: Kenyatta University and Pwani University Thesis Mandate

South Africa

: University of Cape Town, Stellenbosch University and University of the Western Cape

Zimbabwe

: Bindura University of Science Education, Harare Institute of Technology, National University of Science and Technology and Midlands State University
Asia
Azerbaijan

: Baku Higher Oil School

China

: Chinese Academy of Sciences (CAS) and National Natural Science Foundation of China
Europe
Czech Republic

: Brno University of Technology

Estonia

: Estonian Research Council and Ministry of Education and Research

Moldova

: State Agrarian University of Moldova and The Academy of Public Administration

Poland

: Interdisciplinary Centre for Mathematical & Computational Modelling at Warsaw University

Serbia

– a national ETD mandate: all doctoral dissertations (Law on Amendments and Additions to the Law on Higher Education adopted on September, 10th, 2014)

Slovakia

: Slovak Centre of Scientific and Technical Information (SCSTI)

Ukraine

: National Technical University «Kharkiv Polytechnic Institute»
OA policy workshop in Ethiopia
On November 27 EIFL together with Addis Ababa University (AAU) Libraries, the Vice President Office for Research and Technology Transfer of AAU and Consortium of Ethiopian Academic and Research Libraries (CEARL) co-hosted an OA policy workshop to advocate the need for institutional OA policy and encourage University officials to articulate one for Addis Ababa University.
An OA policy draft has been developed with contributions from Eloy Rodrigues, Director – University of Minho Documentation Services; Dr. George Gitau Njoroge, Chief University Librarian, Kenyatta University; Abenet Yabowork, Knowledge Curation Manager, International Livestock Research Institute; Solomon Mekonnen, Assistant University Librarian for Technical Processing at Addis Ababa University, and EIFL-OA country coordinator; and EIFL OA Programme Manager Iryna Kuchma.
PASTEUR4OA (OA Policy Alignment Strategies for European Union Research)
EIFL coordinates OA policy activities in ten Eastern European countries within an EC-funded project PASTEUR4OA (OA Policy Alignment Strategies for European Union Research) launched in February 2014. On 2-3 December 2014, the PASTEUR4OA project hosted a Europe-wide meeting of national experts to promote OA policy alignment in Europe.
The meeting brought together PASTEUR4OA project partners and members of the recently set up Knowledge Net that represent a wide variety of stakeholders – universities, research funders, libraries, associations and networks – from across 33 European countries. Three issues were among the top priorities of the meeting's agenda:
Revisiting the Horizon 2020 (H2020) OA mandate, situating OA policy developments in Europe and within the global context, and learning from the best practices in OA policy development and implementation at the national, funder and institutional levels;
Discussing the importance of aligning national OA policies with the H2020 OA mandate;
Promoting OA policy alignment at the national level and facilitating coordination at the pan-European level through the Knowledge Net.
See an overview of the meeting here.